While you won't find a single yacht (or dinghy) at the New Braunfels Yacht Club, what you will find is a local service organization, composed mostly of teens, dedicated to improving their community by reaching out to help those less fortunate. The primary activators of this group are young people, but people of all ages of are welcome and encouraged to participate.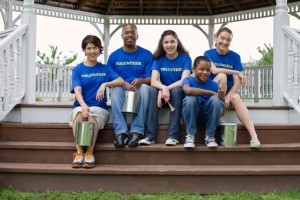 The New Braunfels Yacht Club offers terrific opportunities for teenagers who live at the Vintage Oaks at the Vineyard to get involved and make a difference in their community. The club is sponsored by several local businesses and organizations, including the Faust Hotel, Marble Slab Creamery Little Caesars Pizza, AF1 Racing, Corner Tubes, Classen Custom Homes, and Morris, Allen & Bermudez Law.
To keep its members up-to-date on current and future activities, the New Braunfels Yacht Club hosts monthly meetings, which are open to the public. The Club's simple beginning, as just a group of friends getting together to brainstorm and coordinate activities to try to help the local poor, has grown quickly. With a large, active community of socially responsible young people to draw from, the club has continued to gain momentum.
Their activities have even recently drawn the attention of the press, with a piece featuring them in the San Antonio Express-News. Although every event that the Club hosts is free of charge, they do ask that participants bring canned food or some other non-perishable donation when they come. As an event specifically to celebrate the holiday season by assisting those who are less fortunate, the New Braunfels Yacht Club recently asked local retailers and individuals to consider donating sporting goods that they can give to needy children and families in the community.
Both Vintage Oaks and New Braunfels are fortunate to have such fine young people, passionate about actively making their community a better place for everyone to live. Vintage Oaks management believes the New Braunfels Yacht Club is truly making a difference, an organization worthy of our admiration and respect.