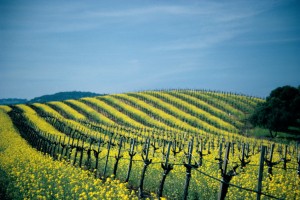 Texas' climate has proven very suitable for producing wine, with the Texas Hill Country in particular providing the perfect location and setting for strong, healthy vineyards.
Temperature. What's considered ideal for wine production in North America are locations that experience a minimum of 165 frost-free days annually, and where temperatures rarely drop below zero. This is because the grapes need at least that long to mature and ripen to their full texture and taste, fulfilling their optimal potential to become the best wine. Averaging more than 250 days of sunshine each year, and with weather patterns both hot and humid, New Braunfels fills the bill. It's that hot, dry setting—typical of the Texas Hill Country—that makes it the perfect place for a healthy vineyard.
Wind. Wind can be tricky where grapes are concerned. Not enough, and the grapes can stay too moist on the outside, making them susceptible to mildew and fungus. Too much wind, however, can keep them too dry, hindering their metabolic processes and robust development.
Rainfall. Vineyards also require an appropriate amount of rainfall. Just as with not enough wind, too much rainfall can lead to mildew, and rains that are too heavy can actually damage the vines. Too much rain can also dilute the sugar level in the grapes, trending their flavor toward more bitterness than is desirable. Grapes need at least 22 inches of rain a year to survive, and more than that to actually thrive. With just over 30 inches of rain annually, once again New Braunfels proves itself a veritable Garden of Eden—at least as far as wine-producing grapes are concerned.
Clean air and soil. Because grape skins are somewhat porous during their development, they're highly sensitive to environmental factors, variances of which can influence their ultimate taste potential. Ideally, grapes need fresh air, free of pathogens and air pollution. Grapes also prefer ample sunshine and appropriate soil. The ideal soil for vineyards is deep and rich, and it must be able to drain well. With wide open spaces and sufficiently far from potentially polluting metropolitan areas, Texas Hill Country meets and exceeds all of these demanding conditions.
It's true that California still maintains their reputation as the producers of the finest wines made in the United States. It's also true that they're still producing the most wine in the U.S. But Texas is gaining momentum. Texas Wine Country consistently ranks as the number two wine destination in the country!
Construction on our planned vineyard at Vintage Oaks begins soon, just one piece of our vision to contribute our part to seeing the Texas wine community grow into a heritage of what we believe will one day prove its wines to be world-famous.