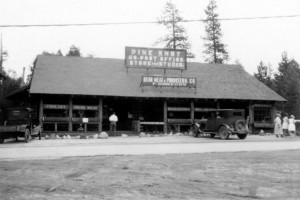 Historical San Marcos, located in Central Texas along the San Marcos River, is believed to have been discovered in 1689 by the Spanish explorer Alonso De Leon. De Leon reached the river on April 25, 1689, the Catholic feast day of St. Mark the Evangelist. Both the river and the town were later named after the saint.
In the 1700s, settlers attempted to establish the first town in the area. Then known as San Marcos de Neve, floods, invasions by Indians and the Mexican Revolution all contributed to the town's ultimate downfall. In 1846, the city was rediscovered and new settlers began moving in. San Marcos soon became a thriving town, building itself around ginning, milling and agriculture. General Edward Burleson, the town's most famous founder, was a hero in the Texas Revolution and served as a former vice president of the Republic of Texas.
The International-Great Northern Railroad arrived to San Marcos in 1881. The railroad brought with it more people and more resources, soon establishing San Marcos as a center for business and transportation. Cattle and cotton were dominant commodities in the San Marcos economy. In the mid-19th Century, San Marcos was a cotton-producing center.
In 1899, Texas State University-San Marcos was established to address the town's growing educational needs. Texas State University-San Marcos' primary purpose was to educate as many people as possible to become public school teachers throughout the land of Texas. In 1907, the San Marcos Baptist Academy was established; it continues today as a college preparatory school for high school students.
During World War II, San Marcos needed to diversify to support the war effort, branching into manufacturing to do its part. This provided stimulus for innovation in local industry, resulting in a large increase in the city's financial resources following the war.
In the 1960s, new attractions in San Marcos brought tourism to the area. The Gary Job Corps Training Center was founded, making education the number one employer in San Marcos and increasing the population by almost 50 percent, from nearly 13,000 in 1962 to almost 19,000 in 1972.
San Marcos continues to be a thriving community today. Just 20 short miles from Vintage Oaks at the Vineyard, this bustling town is a great educational resource and historical destination for our residents to visit.
Follow Vintage Oaks on Facebook!