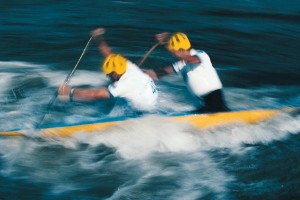 Just 20 miles from Vintage Oaks in the beautiful Texas Hill Country surrounding San Marcos, Texas, an annual event takes place that challenges even the hardiest of athletes. Covering 260 miles in approximately 100 hours in the June Texas heat, the Texas Water Safari has become known as the world's toughest canoe race!
The race began in 1962 when Frank Brown and Bill George took their boat from San Marcos to Corpus Christi, Texas. It took them thirty days to make the trip. After finishing the course, they wanted others to experience the same adventure. So the very next year in 1963, they founded the Texas Water Safari.
The race starts at the Aquarena Center in San Marcos, Texas and ends in the Guadalupe River and San Antonio Bay confluence. Covering the 260 miles of challenging river within the 100-hour time limit is most definitely not for the faint of heart. To finish the race within the allotted 100 hours, participants must travel day and night with very brief and infrequent rest stops.
Texas Water Safari Race Classifications range from solo to groups of up to six people. Few teams manage to reach the finish line, and those who do say that just finishing is reward enough. Many start the race with no intention of winning. Instead, they simply aspire to finish and earn the highly coveted Texas Water Safari patch.
The Texas Water Safari is not a canoe course for the inexperienced. This canoe racecourse can be very hazardous, with seasoned participants taking serious safety precautions both before and during the race.
Of course, the race does not happen on its own. Volunteers are needed to serve as checkpoint officials, race officials, safety officials and check-in officials. And volunteering has its rewards! Working for more than twelve hours over the course of the race earns you a t-shirt and a meal at the Awards Banquet.
For the race to continue each year, sponsors are also needed. Different sponsorship levels are available for corporations and businesses, as well as individual sponsors. It can be a wonderful marketing opportunity for your organization, with great exposure!
Whether participating, sponsoring or volunteering, Vintage Oaks supports everyone who accepts the challenge of the Texas Water Safari. While the vineyard living lifestyle is calm and peaceful, this annual event—just 20 miles away—challenges the adventurer in all of us!
Follow Vintage Oaks on Facebook!