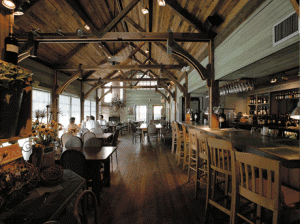 When we decided to do monthly restaurants reviews to showcase all the awesome places there are to eat in New Braunfels I know that the first place I wanted to review was Huisache Grill and Wine Bar – one of my favorite places to eat in the Hill Country! Located in downtown New Braunfels, Huisache is known for its "creative contemporary cuisine with fresh regional ingredients."
The menu features a variety of delicious creations including: Chicken Fried Portobella Mushroom Wedges, Hot and Crunchy Trout, Charbroiled Rosemary Chicken Breast, Bluecheese Steak and Pecan Dusted Boneless Pork Chops. A couple favorites of mine are the Three Salad Sampler that includes their Waldorf Chicken Salad, Shrimp Louis Salad and Spinach Salad. To end the meal be sure to get the Italian Cream Cake which is *seriously* my most favorite cake ever.
Huisache also boasts an amazing wine menu to go with your dining experience and right out the back door you can shop at precious boutiques such as: Princess Be, The Potting Shed, among others.
Have you ever been to Huisache? If so, let us know what's your favorite part about it by commenting below.