If you are fortunate enough to live i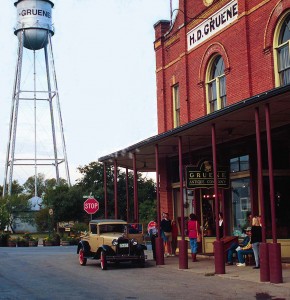 n New Braunfels or are visiting the area, a must on the list of things to do is visit Gruene Historical District. Located on an old stagecoach road between San Antonio and Austin, the 19th-century town of Gruene is situated on a bluff overlooking the Guadalupe River. Today, the small town retains the appearance of a thriving 19th-century cotton producing community. The 1872 home of the town's founder, Henry Gruene still stands proudly with its Victoria galleries today as the Gruene Mansion Inn.
Visitors far and near, are so enchanted by this historic town that they keep coming back every chance they get. Be sure to visit the Gruene Antique Company to discover treasures from the past and Gruene Hall where country singing legends like Willie Nelson and Lyle Lovett have performed. Since this quaint town is so centrally located, you are only moments away shopping, dining, wine tasting, dancing, water activities, and lodging. With all that this lovely town offers, why not plan a getaway and enjoy a leisurely stroll through the historic district.
To learn more about the Gruene Historic District click here.