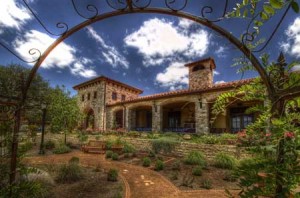 Escape the hustle and bustle of Austin and take a jaunt to Hill Country to experience the Driftwood Estate Winery. Located in Dripping Springs, Texas this vineyard receives rave reviews from visitors. Along with a glorious view of rolling hills reminiscent of Italy or California, the winery offers an ample variety of tasty and economically priced wines to choose from. Visit the tasting room and enjoy a sampling of six wines for a mere $5.00, then stroll outside to view the vineyard and a field full of grazing goats.
There is a lovely pavilion that has been host to wedding receptions, company picnics, live music and many other splendid events. The Driftwood welcomes guests to pack a picnic basket to share with friends and family while relaxing, sipping wine, watching goats and taking in the spectacular Hill Country views. So whether you are going on a weekend excursion or playing hooky from work, add this wonderful winery to your itinerary and let the relaxation begin.
To learn more about the Driftwood Estate Winery click here.