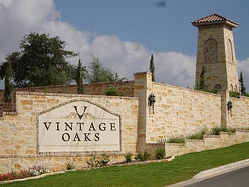 As Thanksgiving approaches, the team at Vintage Oaks wants to give thanks for all the residents in our community! We are honored that you chose to build your dream home here! As we take a break this week to count our blessings, we wanted to share a few things we are thankful for here at Vintage Oaks:
1. Texas Hill Country – We're lucky to live in one of the most beautiful parts of Texas!
2. J.R. Martinez –We've enjoying watching J.R. on Dancing with the Stars this season and appreciate all he's done for Operation Finally Home.
3. The Amenities Center Pool and Lazy River – Thank you for providing relief during this summer's scorching hot temperatures!
4. Schlitterbahn – We love that we're just minutes away from this popular Texas waterpark – it's one of our favorite New Braunfels destinations!
5. Dry Comal Creek Vineyard – We're thankful to have a wonderful wine selection right in our backyard and love to retreat here on the weekends!
What are you giving thanks for this Thanksgiving? Share your thoughts on our Facebook page!