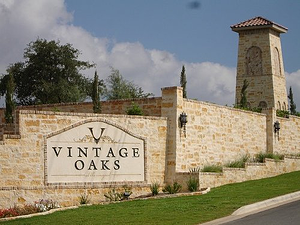 It's Shirley's and my dream to move back to the San Antonio area to build our dream home and to live a purposeful life with our daughters and friends, who reside there now. We currently live in Oklahoma City; although we are happy here with a nice house and community, we desire to be around people we love.
We were in San Antonio from January 21-23, 2011, for a friend's retirement ceremony and celebration. It was a perfect time to break away for a minute to look at a few communities we were interested in. Vintage Oaks was one of the spots on our list. With little time to spare, we made a mad dash to check it out. All it took was a few minutes and we fell in love with the area and the community. Our agent Jeff Scott showed us around; he excited us about the vision for Vintage Oaks and what living there has to offer. There is a song that goes, "Just one look—that's all it took." It was just that; we fell in love at first sight.
The spirit of community, wonderful views, quiet and peaceful living sold us. We saw this as a perfect community to live and invite our friends to joins us as well. Our excitement about Vintage Oaks inspired our friends to check it out. To our surprise, they fell in love with it and bought property too; they excited others as well, and they bought also. Seven and counting…It does not get any better than this. We look forward to living there and building a community of friends.
Eric and Shirley Harmon