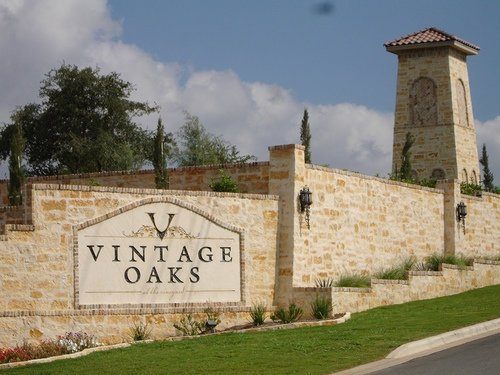 Make 2012 the year you move to the Texas Hill Country! At Vintage Oaks, we enjoy a number of perks including beautiful views, wonderful weather and a wide range of amenities and activities. Wondering why you should make the move to New Braunfels and build your dream home in Vintage Oaks? See the top five reasons to move to Vintage Oaks in 2012:
1. Low Mortgage Rates – 2011 was a record-setting year for low mortgage rates in New Braunfels, and the trend will continue into 2012. These low mortgage rates will allow you to get the best deal when financing your home. With an upcoming election, the market could easily fluctuate making now the best time to buy land and build a home.
2. Healthy Economy – The San Antonio region was recently named one of the healthiest markets in the United States. The area is home to three military organizations and a number of large businesses that are constantly creating new jobs and opportunities.
3. Historical Roots – Vintage Oaks is located near several historical locations including the Alamo in San Antonio and Gruene, a historical district within New Braunfels. These places not only add character and value to the Texas Hill Country but are great places to visit with family on the weekends.
4. Comfortable Climate – Hill Country residents benefit from warm yet comfortable temperatures year round. Summer temperatures average in the upper 80's and low 90's making for perfect conditions to tube on the nearby Guadalupe River. Winter temperatures average in the 60's allowing residents to enjoy outdoor activities like hiking and biking.
5. Convenient Shopping and Dining – While living in the Texas Hill Country is quiet and away from city life, you're never too far away from shopping and dining venues. The Tanger Outlet Center in San Marcos and the Riverwalk in San Antonio are both located less than an hour away from Vintage Oaks and offer a wide range of retail and restaurant options.
Click here to start your search for your dream home at Vintage Oaks.