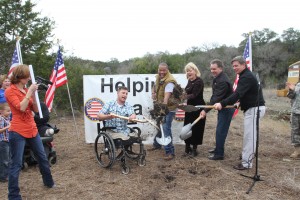 More than 200 members of the Vintage Oaks Community joined ABC's Extreme Makeover: Home Edition to surprise veteran Kyle Malin at his new homesite on Monday, January 16, 2012. Kyle, his wife Alicia and two sons, Caleb and Cy, were chosen to receive a new homesite by Helping a Hero, a group that assists injured soldiers once they've come back from combat.
The Malin family received 1 .03 acre homesite where Jimmy Jacobs Home Builders will build their new home. The family is expected to move in and join the Vintage Oaks community by Summer 2012.
The Malin's surprise was filmed as a part of a special series finale for Extreme Makeover: Home Edition that will air in December 2012.
To learn how you can get involved with Helping a Hero, visit www.helpingahero.org.