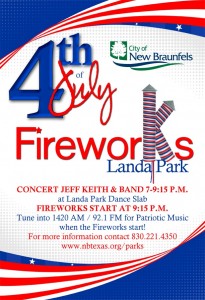 For Independence Day activities and fireworks, the city of New Braunfels provides fun for the whole family. Property owners at Vintage Oaks can enjoy Fourth of July events that include a parade, live musical performances and fireworks show.
The annual Downtown Patriotic Parade begins Wednesday, July 4, at 9:15 a.m. at Bridge and Castell St. The parade continues around the downtown plaza to Seguin and Mill St. Early arrival is recommended. Following the parade, enjoy the Patriotic Program at the bandstand and a concert from Jeff Keith & Band at 7 p.m. at the Landa Park Dance Slab.
Finally, the greatly anticipated New Braunfels fireworks show starts at approximately 9:15 p.m. Tune to 92.1 FM for patriotic music to accompany the fireworks display.