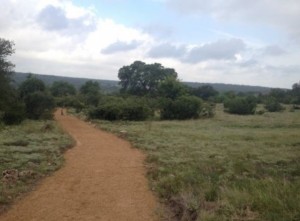 Vintage Oaks is proud to announce the addition of the Vintage Loop, the residential community's recently opened two miles of walking trails, to its list of amenities that include an amenity center, community pool and lazy river. Vintage Oaks also plans to extend the walking trails an additional eight miles and continue neighborhood development with a playground and multi-purpose field.
The hope is that people will walk and bike the trails for exercise, but also use them to visit friends and navigate the community, SouthStar Communities' Thad Rutherford said.
Recent reports show that walking trails and other residential community amenities that encourage physical activity can provide positive, long-term effects on property owners' health and happiness.
In a San Antonio Express-News article about amenities' impact on healthy communities, pediatrician Richard Jackson shared his advice on what to look for. Jackson, also the host of the PBS program "Designing Healthy Communities," said that people should consider a community's "proximity to a park, walking trails or whether it's easy to take a walk around their neighborhood" when weighing the decision of where to buy land.
"Basketball courts and fountains are neat, but walking trails are one of those things that buyers really say that they want," Brett Dietz, division president for KB Home in San Antonio, said in the article. "It goes beyond health. It has to do with family and neighbors."
Stay tuned for more community development updates!
Read the full San Antonio Express-News article.