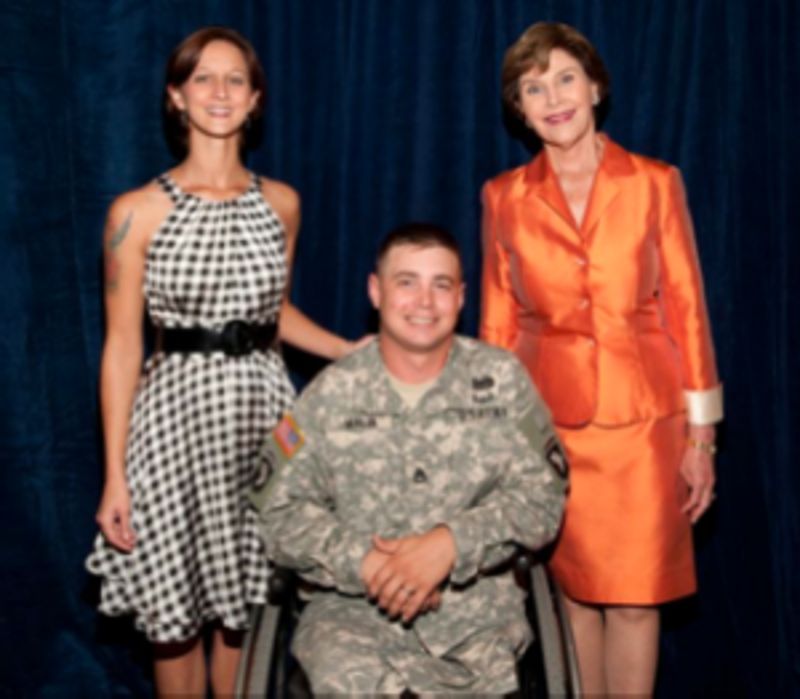 HelpingaHero.org along with the Vintage Oaks community and Jimmy Jacobs Custom Homes invite you to attend the Welcome Home Key Ceremony honoring SSG Kyle Malin and his wife, Alicia. The home is complete and the presentation ceremony will take place on Wednesday, October 17, 2012 at 11 a.m. RSVP by emailing TX@HelpingaHero.org. Catering will be provided by Rudy's BBQ and special guests include professional baseball player, Roger Clemens, LTG Robert Clark, USA(Ret.) and SSG Shilo Harris, USA(Ret.).
Kyle and Alicia are recipients of a new home through HelpingaHero.org's Wounded Hero Home Program. HelpingaHero.org is the 2nd largest national homebuilding organization for our wounded heroes injured in Iraq and Afghanistan. SSG Kyle Malin's groundbreaking was part of an Extreme Makeover: Home Edition show taped in January 2012. Kyle and Alicia have two children, and together they are looking forward to building a new life in the Vintage Oaks community.
Kyle lost both legs in an IED explosion in Afghanistan. Kyle is so grateful to Jimmy Jacobs Homes and Vintage Oaks for partnering with HelpingaHero.org to provide this new home to him. This fully handicapped accessible 4 bedroom, 3 bath home features a large master suite, wider doors, a roll-in shower, a roll under sink, flush thresholds, an adapted kitchen and everything he needs to make his home functional in light of his needs.
The Extreme Makeover: Home Edition episode aired in December.