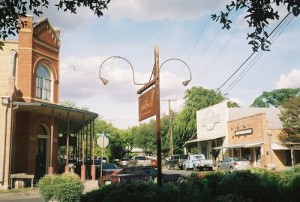 Looking for a new Thanksgiving family tradition? Look no further than the 4th annual 5K Run/Walk & 1/4 Mile Kids' Turkey Chase in historic Gruene, Texas. There is no better way to start your Thanksgiving Day than by pumping up your heart rate with some good old exercise. The 5k takes you through beautiful, historic Gruene and ends with an amazing post-race celebration full of food and activities. Young children under 12 always look forward to the Turkey Mascot 1/4 mile chase. The race begins at Gruene Hall and proceeds from the event will benefit Comal County Sheriffs Green Santa Program and our very own New Braunfels Police Department Blue Santa Program. Register online at comalcopsforkids.org or email ccfk@comalcopsforkids.org for more information.
Can't make it to the Turkey Trot? Take a peek at the following family-friendly activities Gruene is hosting this holiday season:
SATURDAY, DECEMBER 1
11th Annual Gruene Pony Express Ride:
Gruene Historic District will receive Pony Express riders from the Heritage Trail Ride Association of New Braunfels at 10:00 am. Relay riders carry a "Christmas Greetings" message from the Governor of Texas. A temporary post office will be set up next to Gruene Outfitters in Gruene to cancel stamps for mailing. Bring your Christmas cards to have the stamps cancelled with the 2012 commemorative stamp representing Gruene.
Watch from 5:00 to 6:30 pm as Cowboy Kringle rides into town on horseback to light Gruene for the Holidays. We'll be celebrating with live musical performances with festival food and wine available for purchase. Afterwards, enjoy holiday shopping at Gruene's 30+ stores, cozy up to a fireplace for dinner at the Gristmill, head over to Mozie's for a cold one or stop by the Hall for the show that evening. Call (830) 629-5077 for information.
SUNDAY, DECEMBER 2
Old Gruene Market Days
Get started on your holiday shopping in Gruene's relaxed market atmosphere from 10:00 am to 5:00 pm. You're bound to find something special for everyone on your list. Nearly 100 vendors offer Christmas gifts, uniquely crafted items and packaged Texas foods. Free admission. For more information, visit the Gruene Market Days website.
SUNDAY, DECEMBER 9
Gospel Brunch with a Texas Twist, Christmas Edition
Gruene decks its Hall for Christmas in the tradition of a New Orleans-style gospel brunch, with our own special Lone Star touches. Enjoy awe-inspiring gospel music, Christmas tunes and a savory buffet catered by The Gristmill River Restaurant & Bar. Known for his evangelical work and moving messages, Buckner Fanning is a featured special guest at many of our brunches. Advanced tickets recommended. The event is from 10:30 am - noon at Gruene Hall. Get Gruene Gospel Brunch tickets or call (830) 606-1601 (toll free from San Antonio).