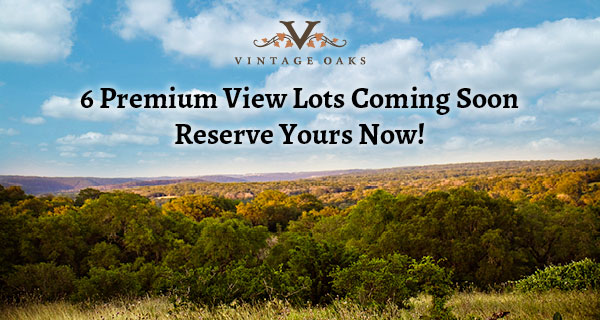 Texas land for sale: Vintage Oaks is about to release 6 spectacular view homesites, and we wanted to make sure you were the first to know about it. As soon as these properties are surveyed, they will be for sale and announced to the general public.
Management allowed us to offer a select number of customers a first look at these homesites BEFORE they are officially released - so you can reserve yours now before they hit the market. I thought you would want to take advantage of this opportunity.
These are 6 of the best hilltop properties in Vintage Oaks' new gated neighborhood, Champagne Hills, and feature endless panoramic vistas. The picture above says it all.
To schedule a viewing of these amazing properties, call (877) 904-9112 or email us at info@southstarcommunities.com.
Don't wait - these homesites will be officially released in a few days.
If you thought you couldn't fall in love with the curve of a hill or the stature of a tree…be prepared. If you thought you couldn't be moved by dirt under foot and sky overhead…be aware. If you thought you couldn't capture a piece of Tuscany in the heart of Texas…behold Vintage Oaks. To see Vintage Oaks is to know the true meaning of beauty. Of promise. Of prestige and planning and powerful emotions—emotions that move you from the first moment you arrive within this special Southstar Community in the heart of the Texas Hill Country.
Take a walk through the community and drink in the incredible surroundings, relax alongside one of its many ponds and reflect on your good fortune, or enjoy a picnic beneath the enormous canopy of a 500-year old oak tree. However you choose to experience Vintage Oaks, you will be grateful for the opportunity.