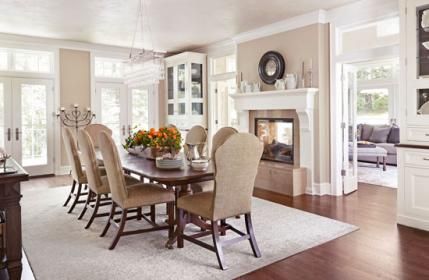 Given how much impact paint can have in a space, it's not surprising it can be challenging to pick the perfect color when buying a new home in the Hill Country. Thankfully, House Beautiful is here to tell us about the "color trends that are dominating 2017" so you can make the right choice when building a custom home in New Braunfels.
WINDSOR PINK
This peachy-salmon hue is the way to do pink with sophistication. "Not too juvenile or too twee or too sweet, it acts like a neutral," designer Lisa Tharp told House Beautiful.
How to get the look: Fine Paints of Europe Windsor Pink
SALSA DANCING
Color forecasters Pantone "named 'Autumn Maple' as one of its top shades for (surprise, surprise) autumn, but the fall hue looks fresh year-round," they said.
How to get the look: Benjamin Moore Salsa Dancing
INNER GLOW
"Sunny rooms are trending again," they said. That means it's time to embrace yellow. Splash it up on the walls of your Hill Country home for an instant mood lifter, or bring in a fun piece of furniture or accessory to translate the trend in a more con-committal way.
How to get the look: Benjamin Moore Inner Glow 348
COURTYARD GREEN
This deep emerald color brings richness and intrigue, and is perfect for a feature wall if you're not ready to paint an entire room. Even better: "It's a color steeped in history, but also of the moment," designer Jeffrey Bilhuber said, which means you don't have to worry about repainting any time soon.
How to get the look: Benjamin Moore Courtyard Green 546
OVAL ROOM BLUE
"I call this blue my miracle worker — nothing bests it if you need fast drama," designer Lauren McGrath told them. Check out how it dresses up House Beautiful's kitchen of the year.
How to get the look: Farrow & Ball Oval Room Blue 85
GREENERY
It's Pantone's color of the year for 2017, and, while the vibrant yellow-green may not be the safe choice, especially for an entire room, it makes a sunny statement in the right space. And, it "brings to mind the outdoors," they said, which makes it ideal if you're looking for a shade to complement the views from your Hill Country custom home.
How to get the look: Fine Paints of Europe HO1950
OLIVE
"If your style is more traditional, olive green might be the right move," they said. It brings a rich sophistication to formal dining rooms and libraries and looks great on moldings and trim.
How to get the look: Farrow & Ball Olive 13
STONE WHITE
If you love a sun-splashed space, this shade in conjunction with tons of windows, can't be beat. Homes with certain architecture, like Spanish and other Mediterranean styles, scream out for white walls, but white can also be ideal in Hill Country custom homes with a lot of woodwork, for great contrast.
How to get the look: Farrow & Ball Stone White 11
MUSHROOM
"Mushroom is the next it-neutral, Country Living predicts," they said. "Try it in the bedroom if you want a zen getaway. According to designer Erin Martin, "This beige may be neutral, but I swear it has medicinal, calming qualities."
How to get the look: Farrow & Ball Stony Ground 211
BLACK CHIFFON
Black built-ins are are a huge trend, providing contrast that brings interest to all kinds of spaces. This shade is a gray-black that tones down the harshness of straight black and "reminds me of shadows," Carmel Greer told them.
How to get the look: Clark+Kensington Black Chiffon N-C15
POISED TAUPE
This was Sherwin-Williams pick for 2017 Color of the Year, chosen because it warms up the typical gray tone. "It's like gray and brown had a baby," Sue Wadden, Sherwin-Williams' director of color marketing, told the Today show.
How to get the look: Sherwin-Williams Poised Taupe SW 6039
For more information about living in the Hill Country and building a custom home in New Braunfels, visit Vintage Oaks. The fastest-growing community in the area for three straight years, Vintage Oaks is located in the heart of New Braunfels on the Texas Wine Trail, offering a range of Hill Country land for sale as well as semi-custom and custom homes. homes for sale.
You can also click below for immediate information on new homes available in the community.