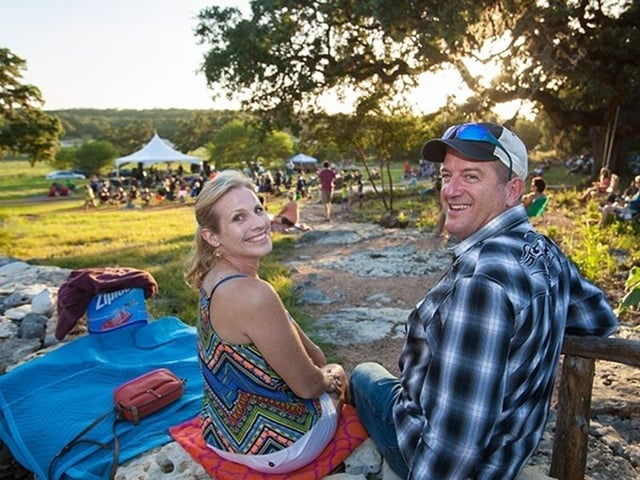 Timber Ridge Park was the place to be on Wednesday, May 17, as residents and friends packed the park for for a live show from Adam Hood to kick off the 2017 Vintage Oaks Summer Concert Series. This popular series has become a favorite Hill Country event at Vintage Oaks, with homeowners showing up early to claim a spot on the lawn or under one of the majestic oak trees, kids playing, families dancing, and everybody enjoying tasty food truck fare.
More than 350 music fans gathered at this beautiful natural amenity, singing along to Adam's mix of upbeat and relaxing songs, which included hits such as, "Coffee Song," "Flame and Gasoline," and "Play Something We Know, which he played to wrap up the performance. Neighbors also appreciated the opportunity to spend time together and make new friends during the show.
The Vintage Oaks Concert Series has attracted some of Texas' top musicians and has become an event that residents look forward to all year long. When it's not playing host to talented singers, the park serves as a natural haven for those who live at Vintage Oaks. The newest amenity at New Braunfels masterplanned community Vintage Oaks, the park offers some of the area's most beautiful scenery and ample space to run, play, enjoy a picnic, and take in the lush surroundings. The 23-acre park has its own system of walking trails that connect to the 3.5 miles of community trails that wind through Vintage Oaks, as well as serene views of a new wildflower field, a grove of heritage oaks, and an adjacent commemorative stone pathway that honors veterans.
The park is just one of the resort amenities that attract Hill Country land buyers and home seekers to the fastest-growing community in the area over the past four years. Vintage Oaks also offers multiple swimming pools, a lazy river, numerous ball fields, and a Tuscan clubhouse. Vintage Oaks' location between Austin and San Antonio right on the Texas Wine Trail is another strong draw for those who want to live in the Hill Country.
Vintage Oaks' real estate offerings include everything from Hill Country land in gated and non-gated neighborhoods to existing semi-custom and custom homes to brand-new builder homes that offer a lower-maintenance option for new Hill Country home buyers.
For more information, visit Vintage Oaks or click below to learn more about The Grove, Vintage Oaks' new community of low-maintenance Hill Country homes.