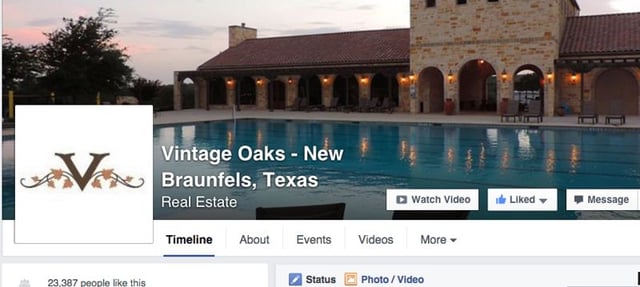 Staying connected today is an important part of the social experience. Several Hill Country Facebook groups and pages inform, inspire, and connect Hill Country homeowners with local businesses and events, and to each other.
1) Nextdoor gives Hill Country homeowners access to a private social community network where they can do everything from post an event, offer a piece of furniture for sale, post about a lost dog, or find a babysitter. Nextdoor sites are community based and access is restricted to those who live in individual communities.
2) The Texas Hill Country Facebook group gives an inside look at Hill Country living, history of different cities in the area, showcases country music, and provides uplifting and interesting tidbits and features. With over a quarter of a million likes, 3) Texas Back Roads is a great place to bone up on some Texas history and learn about new towns and Hill Country getaways. A small site that aggregates information and events relevant to the Hill Country, 4) Hill Country Visitor is a site mainly geared toward tourists but is useful for residents as well.
5) The City of New Braunfels Parks and Recreation Facebook site is a good way to keep up to date on what's happening at New Braunfels parks in terms of openings/closings, tubing, and ongoing events at popular parks like Land Park and Fischer Park.
Liking the site of the city you live in, whether it's 6) New Braunfels, 7) Fredericksburg, 8) Gruene, or 9) San Marcos, is a great idea to keep up with events and activities that might be interesting to you. "Things to do" sites for 10) New Braunfels, 11) San Marcos, 12) Fredericksburg, and 13) Gruene are also great for their detailed information. "Liking" individual sites like 14) Gruene Hall or 15) Gruene Market Days is another great way to keep up with events and happenings.
The 16) Texas Wine Country is more popular than ever, and keeping up with individual wineries is not always easy. Be sure to follow your favorites, like Dry Comal Creek Winery, and "like" sites such as the 17) Texas Wine Trail, with detailed information about Texas Hill Country Wineries, tours, tastings, and events, and Texas Wine & Trail Magazine, another great site for those who want to keep up with the goings-on of the Texas Wine Country. 18) Texas Wine Drinkers is a popular Facebook group that offers winery recommendations, pictures, personal anecdotes, and is a great place to connect with other Texas wine lovers.
Don't forget to join the Facebook group for the community in which you live. Pages like 19) Vintage Oaks showcase Hill Country property for sale but also offer an abundance of information about local Hill Country events, details about living in New Braunfels, important financial information, and more. For those looking to buy Hill Country land or homes in New Braunfels, Facebook sites like 20) Vintage Oaks Realty are key. This page has a multitude of resource for buyers and sellers.
For more information, visit Vintage Oaks or click below to view properties for sale.