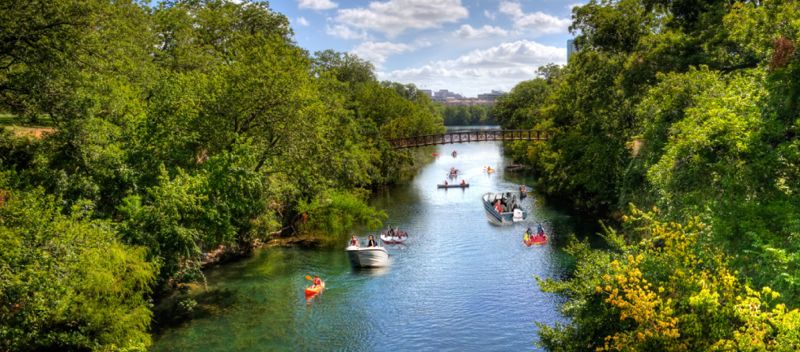 Photo Courtesy of New Braunfels Optical
When moving to a new area, there's one word that sums up what a buyer could be looking for… Convenience. Recently, buyers have been looking for homes that are convenient to their lifestyle, whether it is location, activities, privacy or beautiful surroundings. What better place to find that convenience than living in New Braunfels, Texas?
Here are 5 little known conveniences that could make New Braunfels the best place for you.
1) New Braunfels is centrally located between Austin, Texas and San Antonio, Texas. With easy access to I-35, New Braunfels makes traveling to each city smooth and painless. It also is a great, short commute for those working in either city or last minute and weekend getaways.
2) Property taxes are a significant factor to consider during the home and land buying process. Compared to Austin's total property tax of $.50270 per $100 valuation and San Antonio's total of $.56569 per $100 taxable value, New Braunfels has a lower tax rate of $.498230 per $100 of valuation. With this difference, you can save money and build your dream home for a fraction of the price in New Braunfels.
3) New Braunfels and the rest of the Hill Country have a rich history which can be seen throughout the entire area. You can get connected by walking the historic trails where "El Camino Real" took place, visiting the historic landmarks from the Spanish and French expeditions, and viewing the sites where battles with the Mexican Government took place. Also, you can visit the famous Gruene Hall, where many Country music stars such as George Strait and Lyle Lovett have performed.
4) If you have a family, keeping them busy and having fun is a major factor when moving to a new area. New Braunfels and its surrounding areas have many fun attractions and activities such as Schlitterbahn, a water park and resort fit for the entire family; Texas Ski Ranch, a water sports and skateboarding attraction with a beach paradise atmosphere great for mini vacations; last but not least the San Marcos Premium Outlets, a shopping center filled with many designer stores, kids stores, and more.
5) When building a custom home, it should be built to fit your lifestyle. From a custom kitchen to custom landscaping, your dream home can be built the way you want it and to your convenience. Your custom home can have privacy, beautiful backyard Texas Hill Country views, amazing amenities, and a peaceful atmosphere that will make your home the ultimate Hill Country getaway.
Located in New Braunfels, Vintage Oaks is the fasting growing community offering custom and semi-custom homes only minutes away from all the local area attractions. Click here to download the Texas Hill Country Buyer's Guide for tips, advice, information to help make land buyiing and home building easier.