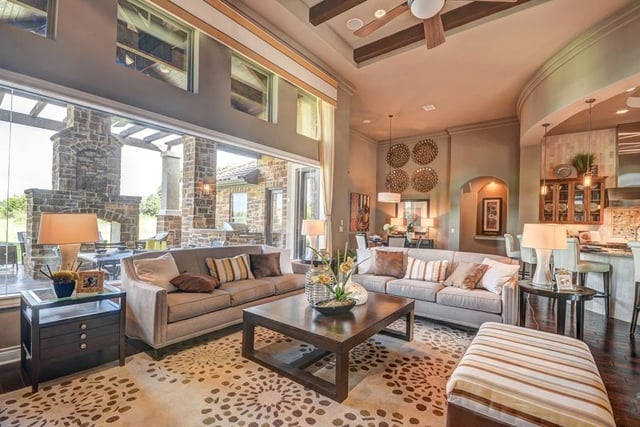 Thinking of building a custom home in Texas in 2017? Then you've probably been wondering about what your floorplan will look like and what features and finishes to include. Zillow's 5 trends in new home construction can help you make some key choices when building a home in the Hill Country.
Solar roofing
"If you haven't been paying attention, it might feel as if the current solar renaissance came out of nowhere. Recent improvements in solar tech have moved solar panels from an expensive niche technology to a reality for many homeowners," they said. The biggest difference—"beyond improved efficiency" is expanded support from power companies and government entities, which "translates into leasing options, subsidies, and tax breaks for solar customers," they said.
Tesla and Elon Musk are further revolutionizing solar roofs, with solar shingles that are practically indistinguishable from non-solar roofs. Solar shingles will come in four options: Textured Glass, Slate Glass, Tuscan Glass, and Smooth Glass, all of which are "tough as steel" and be able to withstand the most inclement weather, according to Tesla.
Smart homes
"It's no secret that home automation has become a growing trend in the home building arena," they said. "Every year, new companies roll out novel technologies to help people better manage and control their homes." If you're building a custom home in the Hill Country, Wi-Fi enabled doorbells, portable cameras, and Wi-Fi thermostats should be on your radar.
Energy-efficient windows
Energy-efficient windows can conserve more than energy. They may cost more initially, but you can expect to save hundreds of dollars per year over lesser windows that may allow energy loss.
Barn doors
What looked like it might be a fad has become a must-have in today's Hill Country custom homes, and the options for when and how to use them are endless. "Barn doors aren't just limited to functioning as entrances—smaller, stylized barn doors can be used to hide a TV or disguise a pantry," they said. "Because these sliding doors offer a rustic charm while remaining functional, the use cases for barn doors are myriad. From closet doors to room dividers, barn doors are quickly becoming the solution to dozens of interior design quandaries."
Electric car charging stations
Tesla's main area of impact while the popularity of solar roofs continues to grow is the electric car, and what was once thought to be a novelty enjoyed by a few is fast becoming mainstream. Where that impacts your home build is at the power source. "The continued growth of the electric car industry is having a lasting impact on at least one aspect of home building: the garage," they said. "As more homeowners make the switch to fully electric cars, charging stations are becoming a more common fixture in garages. Expect to see more electric car charging stations in the garages of tomorrow."
Want more information about living in the Hill Country and building a custom home in New Braunfels? Visit Vintage Oaks, offering Hill Country land for sale plus custom and semi-custom homes and an array of resort-style amenities including multiple pools, ball fields, walking trails, and a Tuscan Clubhouse. Vintage Oaks is the Hill country fastest-growing community in the Hill Country for the past three years and is ideally located right on the Texas Wine Trail between Austin and San Antonio.
You can also click below to see new homes that are now available.