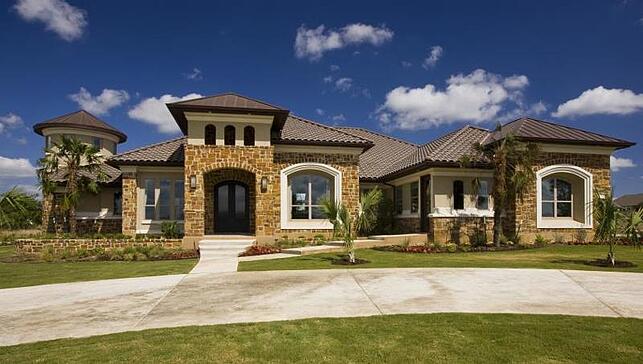 New Braunfels is a favorite spot of today's individuals, families, and retirees—so much so that it was named the fastest-growing city in the nation for 2014. An array of homes in different sizes, styles, neighborhoods, and configurations await homebuyers, and sometimes the story behind the home is what makes it most interesting to buyers.
Here are 7 things you didn't know about New Braunfels homes for sale.
1. The heritage is German
But while you'll find nods to the early heritage in several area retail and dining establishments (not to mention the annual Wurstfest, many homes reflect the Hill Country style
2. Some of the oldest neighborhoods date back to the late 1800s
You can find them in downtown and around Landa Park (p.s. don't miss a tour of The Lindheimer Home, on the National Register of Historic Places, if you want a taste of what life was like in New Braunfels in 1845).
3. But you can also find something brand new
New Braunfels is comprised of several new home neighborhoods offering new homes from some of the nation's most well known builders. In masterplans like Vintage Oaks, the fastest-selling community in the Hill Country, buyers can also find home-lot packages that allow them to add their personal touch to a pre-selected floorplan and move in quickly without the wait of custom construction.
4. Gated, non-gated, cul-de-sac lot, mature trees, views of the valley—the choice is yours!
For those who want to build a custom home on a piece of Texas land, the choices are vast. Large acreage, view lots facing the sunset, and those within walking distance to community amenities are just a few of the options available.
5. You can live on cotton crops
Or, where cotton crops used to be, in the New Braunfels town of Gruene, an historical district filled with important landmarks. The home of one of the town's early founders is now the Gruene Mansion Inn, the old cotton gin is now Gristmill River Restaurant and Bar, and the land in between was covered in cotton. Today, that area is filled with riverfront condos and Hill Country homes.
6. Hill Country living with convenience to Austin and San Antonio
New Braunfels homes offer a unique opportunity to live among one of the most dramatic landscapes Texas has to offer yet within easy commuting distance to both Austin and San Antonio.
7. You can live as civilized—or uncivilized—as you want
Want to live "off the grid" in a private, secluded place? Existing homes and land offerings can make this a reality. Those who prefer their home with a side of amenities can find what they are looking for in a New Braunfels master-planned community. Vintage Oaks is a popular option for its wide range of exceptional home and land options and five-star resort amenities including pools, ball fields, trails, a Tuscan-style Clubhouse, and private parks.
For more information about Vintage Oaks, visit the website or click below to download the Hill Country Real Estate Buying Guide.