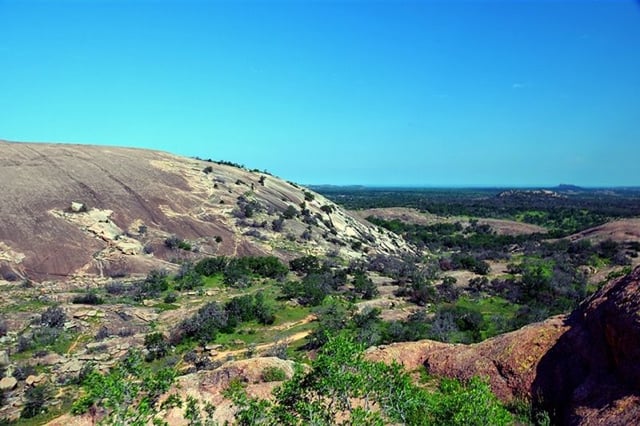 There's perhaps no better way to get out, get fit, and get a taste of all the natural beauty the area has to offer than hiking in the Hill Country. Looking for the perfect place to explore? Start here.
Enchanted Rock, Fredericksburg
The Enchanted Rock pink granite dome is a sight to behold. There are a couple of different trails you can follow to get to the top of the 425-foot rock, and caves to explore once you get there. Don't forget to take a minute to take in the view at the top. The dome rises approximately 425 feet above the ground, and the view from the top is simply amazing.
Garner State Park, Concan
111 miles of trails await in Garner State Park—we love the ones along the water. Tons of native wildlife are here to explore, and the stone cliffs and towering cypress trees provide an incomparable landscape. Get one of the best views around by climbing to the top of Old Baldy.
Cibolo Nature Center, Boerne
Explore 100 acres of wilderness and trails with walking paths bordering Cibolo Creek, horseback riding, and Kreutzberg Canyon Natural Area.
Lost Maples State Natural Area, Vanderpool
It's not exactly in the Hill Country, but Lost Maples is the place to go for fall colors in the area, and the hiking is great year-round. "Try this trail in the fall with the changing colors of the Bigtooth Maples or anytime to enjoy the clear Sabinal River, with swimming holes and waterfalls," said Texas Outside.
Prospect Park & Purgatory Creek Greenspace, San Marcos
Hike, stroll, or go birding along the Purgatory Natural Area's 463 acres. "A portion of the reserve includes upland meadows and canyon bluffs of 40 feet or more, dense juniper thickets, and champion oaks. Several areas within this greenspace are habitat for golden-cheeked warblers and black-capped vireos," said the Hill Country Outdoor Guide. Remember not to wander off the trails, or you could upset what is an environmentally sensitive area.
Balcones Canyonlands National Wildlife Refuge, Marble Falls
A beautiful spot to raise your heart rate while taking in nature along the five miles of trails, the refuge is also a great place to spy some wildlife.
Gorman Falls
So popular is this hike and the scenery it affords that it was named to Southern Living's list of best adventures in the Hill Country. The spring brings abundant wildflowers, but the 1.5-mile hike that leads to a truly stunning spot is worth trying anytime.
"Reaching Gorman Falls, the park's main attraction, takes a 1.5-mile-long hike through rugged ranch country. The last 100 yards is a rocky descent down a steep path to the misty chill of half a dozen cascades that spill from a 60-foot-high limestone cliff into a moss- and fern-draped grotto," they said. "I almost have it all to myself. There's only one other couple here, and we're all so mesmerized by the falls that none of us says a word. We're just content to let the waterfall do all the talking."
Hill Country State Natural Area, Bandera
With more than 40 miles of trails for everything from hiking to mountain biking to horseback riding, and terrain ranging from flat, to rugged, to steep, topping out at 2,000 feet in elevation, the Hill Country Natural Area has something for everyone.
Vintage Oaks
In a place like this, some of the best hiking in the Hill Country is even closer to home. Vintage Oaks residents love being able to enjoy two-plus miles of landscaped hiking and walking trails that wind through the community, with trailheads close to the Tuscan Clubhouse that allow residents to easily travel between home and the amenities.
For more information about living in the Hill Country, with vast land for sale in New Braunfels and resort amenities, visit Vintage Oaks or click below to view drone video of our newest property release.