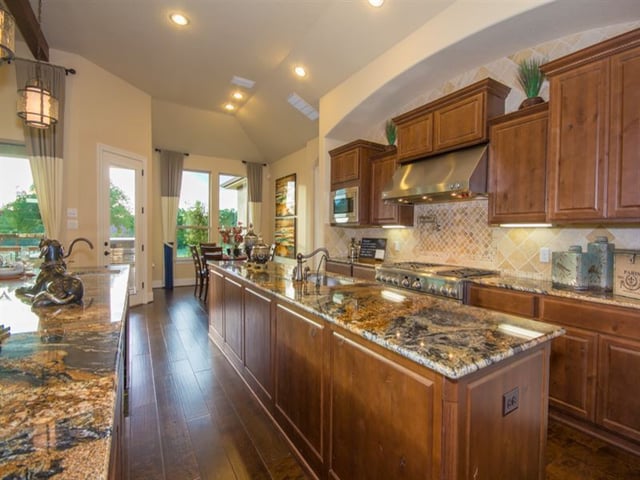 Building a custom home in Texas is an exciting undertaking, and, often the most thrilling part is taking your dream kitchen and making it a reality as part of your dream home. You may have numerous ideas swirling around in your head—or nicely organized in a file you've been growing over a period of time—or maybe you just know you want your kitchen to be as gorgeous as the rest of your custom Hill Country home. Whether you need lots of help figuring out the details or just want a refresher, here are 9 ideas for your Texas kitchen.
1. A u-shape design
A kitchen designed in a u shape is a classic choice that works well for those who want an abundance of cabinets. And, in a larger size, there is still plenty of room for a substantial island in the middle.
2. Parallel lines
Probably the most popular option for Texas custom kitchens today, this floorplan puts the work areas on a back wall with a large parallel island that keeps the look open and elegant. The island can be as large and long as you want—many extend the full length of the back wall with passage areas on either side.
3. Counter-height islands
The open floorplan trend has claimed the double-decker island, replacing it with a counter-height island that keeps sightlines open from room to room. These islands are also ideal for families with young kids and retirees because counter stools are lower to the ground and the risk of injury from falling is reduced.
4. Butler's pantry
Butler's pantries are nothing new, but they continue to be a favorite of Texas custom homebuilders looking for a way to increase their storage without further increasing the size of the kitchen. A favorite location for the butler's pantry is the connection point between the kitchen and dining room, which maximizes convenience for serving, or tucked in a corner where it can remain private and out of sight.
5. Catering kitchen
An extension of the butler's pantry, a catering kitchen is a growing trend for those who do a lot of entertaining. It allows the "main" kitchen to stay cleaner and more organized while the catering kitchen does the hard work. It's also ideal for people who want their countertops to stay clean; small appliances and functional items can be housed in the catering kitchen instead.
6. Homework space
The kitchen table or breakfast bar often turn into homework spaces, and therefore have books, papers, and laptops strewn about. Custom homebuilders are getting around this while still keeping kiddos close by building in a tech center/homework space in a nook near or behind the kitchen. When kids have outgrown the space, it still functions as a private office nook or craft space.
7. Built-in breakfast area
A built-in nook is a favorite option when building a home in Texas because it offers numerous configurations and clever storage options. One of the most popular aspects of this casual dining area is its ability to be tucked away against a wall or in a nook but still be part of the kitchen.
8. Cool Countertops
Granite remains a favorite countertop choice for those buying land in the Hill Country and building a custom home. But the top countertop trend today is quartz, which can mimic the look of granite or marble but is easier to care for.
9. A view to the outside
When building a home in the Hill Country, it's important to take advantage of the views. It's not uncommon for those buying land in New Braunfels to stand on their Texas homesite and frame out with their hands the precise spot where the kitchen window will go according to where the sun sets or where a particular hill or oak tree is located. But beyond that one window, custom home builders are creating a connection to the outdoors in the kitchen with multiple windows, French doors that lead out to a deck, patio, or outdoor dining area, or bi-fold doors that support the indoor-outdoor trend by eliminating the barrier between inside and out completely.
For more information, visit Vintage Oaks or click below to request a map of new Texas homesites.