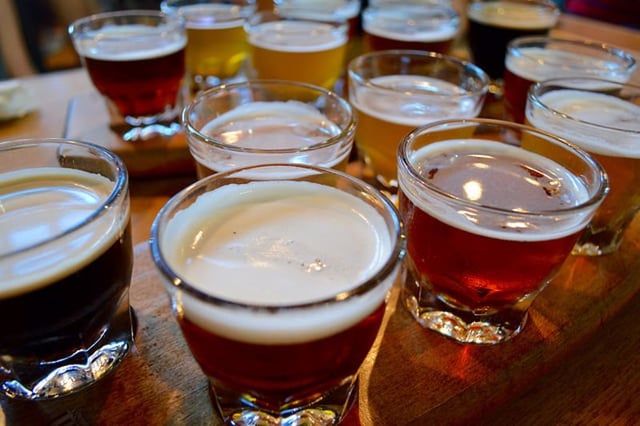 The New Braunfels event that sold out last year is back. It's time for Wurstfest's second Craft Beer Festival. Held at the Stelzenplatz on the Wurstfest grounds, this event on Saturday, March 5 from noon to 8pm will feature brewery tastings of 80+ craft beers plus VIP beer selections, and domestics, food truck fare, and live music all day long. Confirmed artists include The Zack Walther Band; Walk Wilkins & the Mystiqueros; and Tom Gillam & the Kosmic Messengers.
There are two kinds of tickets for this event:
General Admission, which includes six 3-ounce pours/tastes, admission to live music, and access to the craft beer bar
VIP tickets, with early access to the tastings for one hour before general admission, a commemorative Wurstfest Craft Beer Festival pint glass, and exclusive use of the VIP lounge in the Stelzenhaus, with food, its own private beer ticket kiosk, and VIP service at a craft beer booth
One of the highlights of the exciting Hill Country event is the Masskrugstemmen, (literally, "beer-stein holding") which is a traditional Bavarian endurance contest in which contestants must hold a one-liter stein of beer in one hand for as long as possible. One spill and you're out!
Year-round events
Special events in New Braunfels bring Hill Country residents and visitors together for fun, recreation, and cultural exploration among its celebrated natural surroundings. Music festivals, historical events, and activities unique to the Hill Country make New Braunfels a best place to live in Texas for families, couples, professionals, retirees, and military.
Living in the Hill Country
Events and activities are just the beginning of what makes living in the Hill Country so ideal. With some of the top Texas real estate, a growing economy, great convenience to Austin and San Antonio, and a warm and welcoming, small-town atmosphere, Texas landbuyers and homebuyers are increasingly looking to the Hill Country.
New Braunfels communities like Vintage Oaks continue to lead the Texas Hill Country as the fastest-growing community in the area for the last three years. This 3,300-acre masterplan features both gated and non-gated neighborhoods with Hill Country homesites and homes for sale and a resort-style atmosphere including a Tuscan clubhouse, multiple pools, trails and parks, and ball fields. Vintage Oaks is located in the 13th-fastest growing city in the nation in a serene, scenic area right on the Texas Wine Trail.
For more information, visit Vintage Oaks or click below to start your dream home search.