Conveniently located in New Braunfels, residents of the Vintage Oaks community have an all-access pass to the hottest cultural events and big-city entertainment of Houston, Dallas Fort-Worth, San Antonio and San Marcos.
Looking for something engaging to do before Fall? Check out Float Fest, a music festival that is uniquely designed to combine live music with floating down the San Marcos River.
The musical line-up for Float Fest 2014 is an eclectic mix of indie rock and laid-back hip-hop, including acts like Grouplove, Portugal. The Man, and Bun B. The full line-up and driving directions can be found here.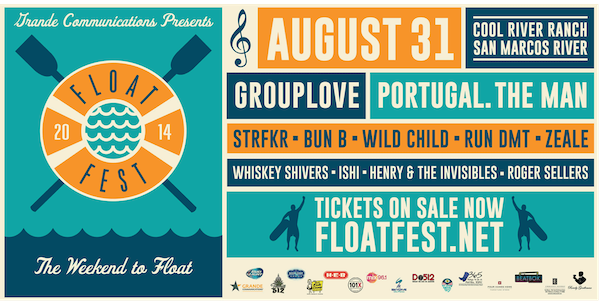 floatfest.frontgatetickets.com
Vintage Oaks at Float Fest 2014
Unsure of the Float Fest festival format? Don't stress. They have the logistics all figured out, including traveling down the river, and getting to and from the festival venue. According to their website, they have access to several tubing companies, including local staples Don's Fish Camp and Cool River Ranch.
Unsure of how you'll get to and from the festival grounds? Float Fest organizers state that "Shuttles will be available to shuttle people to the festival grounds" from either Don's Fish Camp or Cool River Ranch. So you can leave your car at the tubing site, and simply follow the throngs of people departing for the concert.
Your only responsibility for that day? "Float the river then stick around for some great music!"
Other Things to Do in San Marcos
Want to make a pit stop on the way to or from Float Fest 2014? There are several fun and family-friendly things to do in-town this summer.
Do your children have an excess of energy to burn? Check out the Spring Loaded Trampoline Park in New Braunfels, where kids can go to jump and play acrobatic sports for hours on end.
Take a ride on Spring Lake with the Meadows Center Glass-Bottom Boat Tours, formerly known as the Aquarena. Enjoy the bubbling water of Spring Lake, and spot several rare wildlife species and migratory birds.
Come Home to Vintage Oaks
Whether you're attending Float Fest 2014 or any of the host of near-by tourist attractions, you can always come home to the tranquility and picturesque scenery of Texas Hill Country at its best – Vintage Oaks.