Grandparents are moving to be closer to their grandchildren. That's the finding in a recent New York Times article and also a trend being seen in the Hill Country, a popular and growing area among retirees.
"Much of what grandparents decide to do depends on whether they have the relative freedom retirement conveys, what kinds of relationships they have with their grown children, whether they are married or living independently and their degree of real or perceived financial freedom," said the NY Times. The article also noted that retirees who have not previously thought about moving closer to family may decide to do so because of changing family dynamics.
"Often, the desire to live near adult children changes over time," they said. "Parents who might not have considered moving closer to their children change their minds when a grandchild comes along."
Nancy and Bob Burleson decided to move to the Hill Country to be near their beloved grandchildren two years ago. The problem: they couldn't find a place that suited their needs.
"We love being Nana and Bops to 5-year-old Cormac and 2-year-old Alejandra who live in Austin," said Nancy. "Two years ago, we searched the Hill Country and surrounding areas for our retirement home--Canyon Lake, Wimberley, Kerrville and Seguin. We either liked the house and not the lot, and vise versa."
That conundrum ended on the last day of their search, when the couple "accidentally" discovered Vintage Oaks and learned why the masterplan is the fastest-selling community in the Hill Country.
"After two weeks of searching with our real estate agent, we gave up and we went off on our own. The last day of our trip, Bob and I were driving east along 46 on a stormy and rainy day. We saw Vintage Oaks' billboards and thought, 'Let's look at one more community,'" said Nancy.
"We drove into the Vintage Oaks welcome center and met sales professional Todd Bednar. I sat in the front seat of Todd's car and Bob sat in the back as we drove around in the rain. Of course, we were taken to the amenity center and were both very impressed. Then Todd showed us several lots until there was just one more to see in a newly opened area. Once we got to the end of the cul-de-sac, Bob and I looked at each other, and without saying a word, we both knew Vintage Oaks was where we wanted to live and be closer to our grandchildren!"
Being within such easily driving distance to Austin means the Burlesons can see their grandchildren's smiling faces anytime they want. And as a bonus, the amenities in the Vintage Oaks community and its natural surroundings create endless fun for the family.
"Our home was completed in February, and we continue to love this beautiful area nestled between Austin and San Antonio," said Nancy. "Since we moved in, we have enjoyed the pool, lazy river, and several family nights. Right now, our grandchildren are visiting and enjoying the diversity of bugs, birds, butterflies, rocks, and trees around our home! "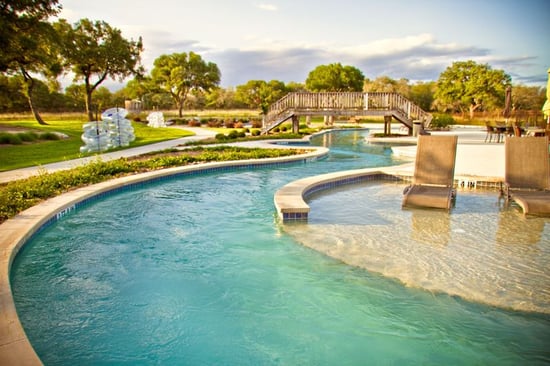 Vintage Oaks is a great fit for retirees and pre-retirees for its excellent location, abundance of nearby hotspots, access to area services, resort-style amenities, and range of homes and homesites.
For more information, visit Vintage Oaks or click below to download our free Guide to Living and Retiring in the Texas Hill Country.