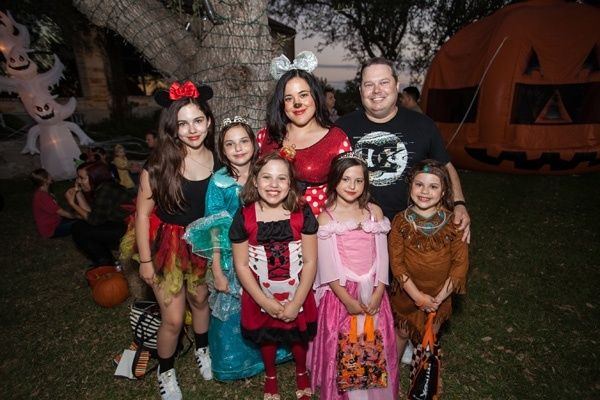 Think Halloween is all about the kids? When you live in the Hill Country, you get a great mix of fun family events and activities, and also a few that are strictly adults-only. Whether you're looking for a great activity for all ages or an opportunity to get out and have a scary good time with the 21-and-over crowd, you'll find some great options here.
Downtown San Marcos Trick or Treat
Saturday, October 28, noon to 3pm
Downtown San Marcos
Who says the kids have to wait until Halloween night to gather up all their yummy favorites? Hit the third annual Downtown San Marcos Trick or Treat to find treats from local shops. They can also get their faces painted at The Porch, bounce in the Bounce Castle at Sean Patrick's Irish Pub N' Texas Grub, participate in kid Karaoke at Stonewall Warehouse, do some Halloween crafting at Crafthousetx, and even do an excavation dig Louie's Oyster House & Beer Garden.
Pumpkin Painting Party for Munchkins
Saturday, October 28, 3–5pm
Homespun Kitchen and Bar, Dripping Springs
Head to Dripping Springs this Saturday, October 28 for a fun annual event that includes pumpkin painting, plus a kid's meal and face painting, as well.
Llano River Pumpkin Float
Saturday, October 28, 4pm–9pm
Badu Park in Llano
This Halloween event kicked off last year and was a huge hit. Bring your own carved pumpkin and a candle or light, and get ready to watch it float down the river in what turns into a sparkling sea of beauty. There are also a bunch of kid-friendly activities, including pumpkin carving demos, sidewalk chalk, and pumpkin stacking.
Dia De Los Muertos Festival
October 28, 5–10pm
Downtown New Braunfels
Now in its second year, this special event combines local food and drinks with traditional arts & crafts, live entertainment with Mariachi, Folklorico dancers, and Tejano stars Sunny Sauceda and Crystal Garza, and shopping at vendor booths.
Rockfest at Happy Cow Bar and Grill
Saturday, October 28, 6pm to 1am
New Braunfels
Rock out with your costume on and enjoy great live music, food, and drink specials at Happy Cow during this adults-only event.
The Haunted Show at Cave Without a Name
Saturday, October 28, 7–10pm
Boerne
This unique Halloween event is billed as family friendly, but if your kids are afraid of the dark and/or eerie spaces, you might want to skip it—or come without them! It's being held in the Cave Throne Room, which "will be haunted by the expert weaving of tale and song—both classical and jazz—such as Moonlight Sonata (played in total darkness), Theme from Young Frankenstein, A Nightmare before Christmas, Danse Macabre and similar songs plus the haunting melodies from Rahim Quazi's CD, Ghost Hunting, which was on the ballot for a Grammy Award."
Hallo-Wine Party at Sidecar
Saturday, October 28, 7–11pm
Dripping Springs
This 21-and-over Halloween Bash features a costume contest, and everyone will be expected to "do the monster mash to the music of DJ Amoeba." Spooky drink specials and treats from Chef Mike Massaro's food truck will make the evening extra festive.
Halloween Wine Pairing
Sunday, October 29, 1pm
Messina Hof Hill Country
This holiday edition of Messina Hof's Pairing 101 "will serve up a special edition guided wine pairing featuring Halloween candy!"
Neighborhood Halloween Party
Tuesday, October 31, 6–8pm
Vintage Oaks Clubhouse
The favorite Halloween event for Vintage Oaks owners is back! Residents and their families love Vintage Oaks' neighborhood Halloween Party, with pizza, treats, a hayride, a pumpkin bounce house, and, of course, trunk-or-treating!
Please download and complete the Hayride Permission-Waiver Form in advance and turn in at the food table the night of the event or drop off/mail to the Sales Office. The event will also include prizes for the "best-dressed" car. If your kids also plan to trick-or-treat in the neighborhood, or if you plan to pass out candy on Halloween, be sure to see/mark the map on Nextdoor.
DJ Gabe's Hellfire Halloween Haunt Night!
Tuesday, October 31, 8pm
Phoenix Saloon, New Braunfels
Escape after the kids get done trick-or-treating and have some adult fun with "spooky goings on," a costume contest, and drink specials.
Want more information about events in the Hill Country? Visit Vintage Oaks, the fastest-growing community in the San Antonio area for the past four years. Vintage Oaks is a 3,300-acre masterplanned community that offers Hill Country homesites ranging from 1 to 14 acres in gated and non-gated neighborhoods as well as New Braunfels homes for sale that are both custom and semi-custom.
Vintage Oaks offers a premier lifestyle, with friendly neighbors, great community spirit, and a welcoming nature, as well as beautiful views of rolling hills and old oak trees. On-site resort amenities include multiple pools, a lazy river, miles of walking trails, ball fields and sport courts, a Tuscan clubhouse, and a year-round calendar of community events.
You can also request a copy of the interactive map to see Vintage Oaks' newest homesite release below.