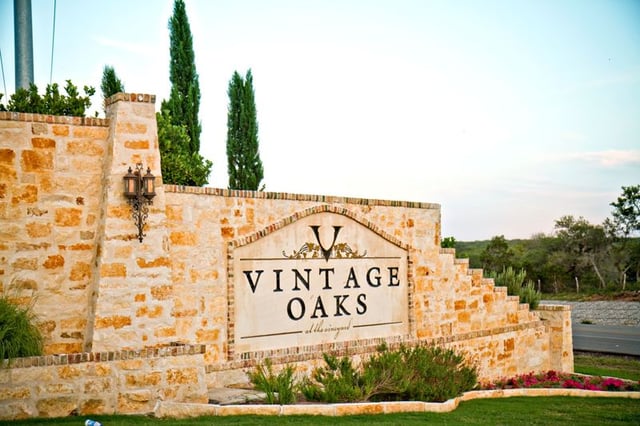 Hillwood Communities, a Perot company that specializes in creating master-planned developments, just announced an investment in SouthStar Communities' existing holdings of residential communities in Texas and Georgia, including Vintage Oaks, the fastest-growing community in the Hill Country for the past three years. SouthStar will continue to manage the operations and development of the community.
"Hillwood Communities represents the pinnacle of master-planned community developers," said Thad Rutherford, COO of SouthStar Communities. "We've long shared the same commitment to delivering well-planned lifestyle communities. This new venture combines SouthStar's legacy as a community developer, marketer and operator with Hillwood Communities' unparalleled expertise in the residential community development."
The companies have previously worked together at Vintage Oaks and are enthusiastic about continuing their successful partnership.
"SouthStar is a quality developer and has been operating these assets successfully for years. We have the exciting opportunity to continue our strategy of investing with other first-class residential developers who have a history of successful operations and developments," said Danny Ellis, Vice President of Hillwood Communities. "We look forward to combining our expertise to develop these great communities and grow this relationship."
About SouthStar Communities
SouthStar Communities is a nationally-recognized real estate investment, development and management firm headquartered in Austin, Texas, providing convenient access to the Vintage Oaks community. SouthStar invests in and develops properties for its own account and in partnership with institutional and high-net-worth investors, and provides services to third-party clients including acquisition, entitlements, planning and development, project management, design oversight, marketing and branding strategy, and asset management. Originally founded in Coral Gables, Florida in 1989, SouthStar has developed over 30,000 acres in 30 communities across the Southern United States. For more information, visit www.SouthStarCommunities.com.
About Hillwood
Hillwood, a Perot company, is a premier commercial and residential real estate developer, investor and advisor of properties throughout North America and Europe. Through its Communities division, Hillwood has delivered more than 24,000 single-family lots in 80 master-planned communities, and is best known for its Alliance brand, featuring the 18,000-acre AllianceTexas, 2,000-acre AllianceCalifornia and 4,474-acre AllianceFlorida. Its founding project, AllianceTexas, has been hailed as one of the best mixed-use developments in the world, generating more than 40,000 jobs and $55 billion in local economic impact to date. Visit www.HillwoodCommunities.com for more information.
About Vintage Oaks
Vintage Oaks is the area's premier masterplanned community. It offers Hill Country homesites from 1 to 14 acres plus semi-custom and custom homes and an abundance of resort amenities including multiple pools, a lazy river, walking trails, ball fields, and a Tuscan Clubhouse, all in a desirable, fast-growing location. New Braunfels is the No. 2 fastest-growing city in the nation with a consistently strong real estate market and a thriving economy and job market.
The newest data from the Texas Association of Realtors shows the city's median home price is up 5% to $235,000. The Wall Street Journal recently called buying land in the Texas Hill Country to build a custom home one of the hottest trends in luxury real estate in Texas, and the Texas Association of Realtors noted that, "The popularity continues to grow for purchasing small tracts of land in Texas for recreation or commercial endeavors. The number of sales and average price per acre went up in 2015, while the average tract size went down."
New Braunfels' location between two of the country's most vibrant large cities, Austin and San Antonio, gives it a strategic advantage for its growing workforce. Employment in the Hill Country, and, especially, in New Braunfels and neighboring San Marcos, are putting opportunities even closer to home for Hill Country real estate buyers; New Braunfels gained almost 2,000 jobs last year, and with the $14 million HEB Plus that just opened in the city, Canadian-based CGT U.S. Limited building a new manufacturing facility, and the new Amazon facility coming together in San Marcos, thousands more will be added this year.
For more information, visit Vintage Oaks, or click below to start your search for your dream home.