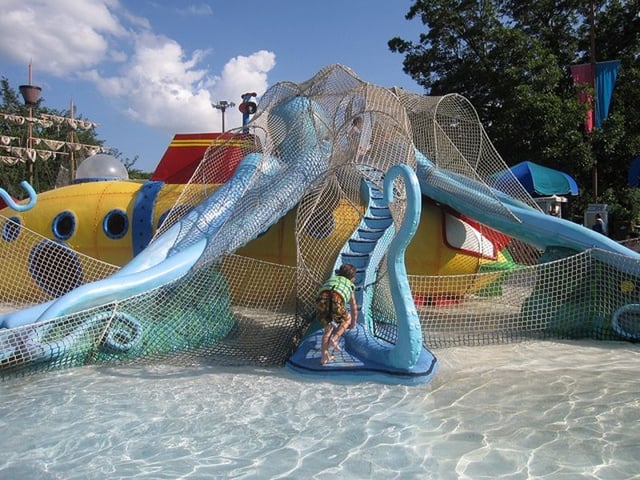 Schlitterbahn Waterpark New Braunfels is one of the top water parks in the country. People come from far and wide to take part in one of the favorite New Braunfels family activities. But perhaps no one loves Schlitterbahn like those who live in New Braunfels, and locals have the benefit of knowing a few great tips to get the best out of the park.
1. Go on the right day
Not surprisingly, Schlitterbahn fills up on the weekends. But it's not the only busy day at the park. "As park COO Terri Adams told the Houston Chronicle, "Mondays are a big travel and park day. Often times they can be the second biggest attendance day of the week," said the Austin American Statesman.
According to Schlitterblog, "Wednesday is the slowest day during the summer, and other good bets include "a day where it's rained just a little (it's amazing how a brief rain shower will keep people home), or ON A HOLIDAY. That's right, the actual day of a holiday, like the 4th of July or the actual DAY of Labor Day, is slower than the days around it."
2. Time it right
The earlier you go, the better your chances at getting to all the attractions without waiting in long lines. The park opens at 10am, but you may be able to get in as early as 9:30 when the ticket counter is open, according to Schlitterblog. "If you arrive 30 – 45 minutes early, you are going to hit the fewest lines."
Another way to get the best out of the park is to plan around lunch. "Hit the rides hard during lunchtime, said the Austin American Statesman. "Most park visitors will take a break around noon — now's your chance. While others are snacking, you could be splashing."
3. Get the lay of the land
If it's your first time at the park, make a plan ahead of time so you know where everything is. That way you can head straight to the attractions you most want to see when you get there.
Some Schlitterbahn experts recommend treating a trip to Schlitterbahn like a trip to Disneyland and starting with the farthest point first to minimize the time you spend in line.
4. Rack up the savings
Buying Schlitterbahn tickets online can save you up to $12 a ticket. And going late in the afternoon when the crowd starts to thin out can save you even more. Arrive after 3pm, tickets are discounted up to $15 each.
Make sure to also watch for Surf and save/blast and save days. According to the Austin American Statesman, you can save money with these tickets, which "are only available during the beginning and end of the summer season. Although only selected parts of the park are open, they are priced cheaper and ensure an emptier park as kids are back in school."
5. Don't leave the park
Staying overnight at Schlitterbahn in the River Bend Cabin, Treehaus Suite, or Schlitterstein Studio Loft makes for a great mini-getaway. Plus, you'll get "early ride time on the Master Blaster, Dark Night and Wolfpack before the waterpark opens, free on-site parking, free tubes and free shuttle service."
6. Bring the whole family
Think Schlitterbahn is only for the old members of the family? Younger kids love attractions like the Lagoon Kiddie Park and Butterfly Bayou.
7. Pack right
What you don't need: Tubes. Schillterbahn provides them, and life jackets, for you.
What you do need: Sunblock, of course, and water shoes. The sidewalk is going to be scorching. Protect your piggies and everyone will be happy.
What's optional: A cooler. If you don't feel like paying for lunch and drinks, bring them with you. Schlitterbahn allows coolers in the park.
8. Find some shade
There are shaded areas throughout the park, but they're first come-first served. You can ensure you have a shady place to set up and gather with loved ones by renting a cabana in advance.
Cabanas also come with reserved parking and wait service. If you have a large party, think about reserving your cabana at Surfenburg, a more private area of the park that's perfect for big gatherings.
Looking to live in New Braunfels? Be sure to check out Vintage Oaks, the fastest-growing community in the Hill Country for the past three years. Vintage Oaks offers Hill Country land for sale in gated and non-gated neighborhoods as well as custom and semi-custom homes. The community's resort-style amenities are a great complement to New Braunfels' favorite activities, offering multiple pools, a lazy river, trails, ball fields, and a Tuscan Clubhouse.
For more information, visit Vintage Oaks or click below to start your search.