Kitchen Layout Ideas To Simplify This Space for Socializing
Your kitchen is the central space in your home where words become conversations, morning smiles are met with freshly brewed coffee, meals are shared and memories are made. This essential space in your home deserves the best mix of class and comfort available. Regardless of the kitchen layout ideas you are choosing from, your kitchen will be one you'll love. Zillow contributor and interior designer Kerrie Kelly gives some creative ways you can work with seating to give your layout a different and spacious feeling.
Best View in The House
Window seats give you the ability to add additional seating to your kitchen without taking up a lot of space. If you prefer an open floor plan, this eat-in style can add an airy feeling to the area and give your family and guests an excellent view of Texas Hill Country as they eat. Flip open cabinets give you the option for more storage when designing this space and as Kelly points out, a fabric covering and decorative pillows on the bench can add color and texture to your kitchen design.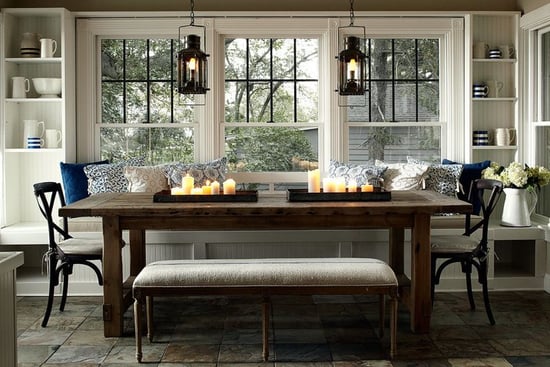 Image Source: ML Interior Designs
The Ideal Stools
This tip is a great addition to your kitchen layout ideas playbook without the need for any design changes or remodeling. Stools give your kitchen a fresh modern look while offering easy access seating for the perfect counter tops or bar area. The different colors, fabrics and designs of stools give your kitchen and seating area that dash-of-accent style. The various designs out there give you a wide selection when choosing the right stool to match your countertop or bar.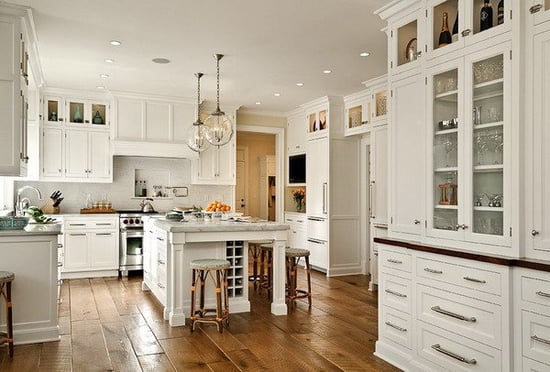 Image Source: Crisp Architects
Making A Kitchen Design Your Own
These suggestions covered quite a few ideas of how to create the ideal sitting area in your kitchen. Feel free to mix some of them up. Create a window nook half with cushions and other half dinning room chairs for a fresh new table setting.
As you are exploring the ideas you want to implement to accomplish building your new kitchen remember to always make it your own. While it's important to add that style you've been wanting or keep it within the same color pallet nothing is more significant than make it feel like home for your family. Choose the kitchen layout you feel would not only accessorize your kitchen best, but what would give you that open space you desire.
At the end of the day, remember your kitchen will always be the heart of your home so use these kitchen layout ideas to help facilitate that. Download our Guide to Building A Home in Texas Hill Country and get started designing the rest of your dream home today.