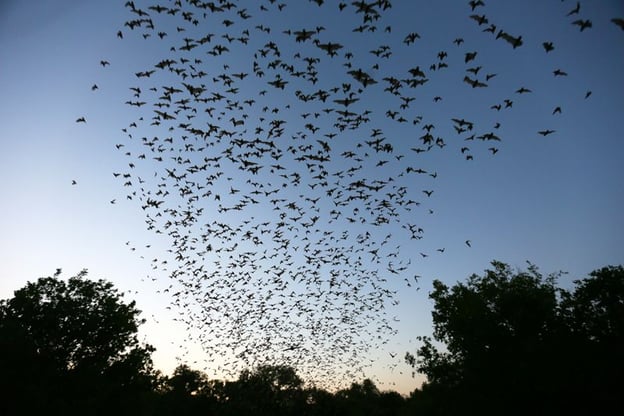 You're picnicking under a huge oak tree at Vintage Oaks, gazing out onto the Texas Hill Country's stunning scenery, when you spot it: a herd of deer frolicking in a meadow. It's not rare to spot wildlife in Vintage Oaks, but that doesn't make it any less special. Here are a few animals you can expect to see in and around the community.
White-tailed deer
Texas is home to an estimated 3.6 million white-tailed deer, according to Texas A&M; the highest concentration is in the Hill Country, with an estimated 2.1 million deer, or 113 deer per 1,000 acres, said Deer Friendly. You may see them grazing among the trails or lounging along a ridge, eating twigs and plants, as well as fruit and nuts.
Texas map turtle
The colorful Texas map turtle is native to the state and found only in a few spots, including the nearby Guadalupe River drainage. Don't be surprised to see one basking on a rock, or even on the back of a larger turtle, according to Go San Angelo.
Guadalupe bass
The official state fish of Texas, the Guadalupe bass is abundant in the San Antonio, Guadalupe, Colorado, and Brazos Rivers.
Wild turkeys
If you travel to some of the unincorporated areas of the Hill Country, you might happen upon wild turkeys, otherwise known as Rio Grande turkeys, running free.
"The wild turkey has brown and gray feathers and lives in wild, unpopulated areas," said Texas Parks and Wildlife, noting that these animals are "the only remaining population of wild turkeys in the state."
Mexican free-tailed bats
Bracken Cave near New Braunfels is home to "the largest colony of Mexican free-tailed bats in the world." The nightly voyage of millions of bats out of the cave to feed is a true Texas sight to behold. Bracken Cave and the surrounding acreage are owned and protected by Bat Conservation International.
You can see a video of the bats leaving the cave at dusk here.
As with any other wildlife situation, use caution and common sense around the animals. And if you want to interact with wildlife in a more controlled environment, a trip to Natural Bridge Wildlife Ranch is always a good time. Located in New Braunfels, the ranch offers a drive-through safari experience with more than 500 exotic, native, and endangered animals spread out over 400 scenic acres.
For more information about Vintage Oaks, the area's fastest-growing community, visit the website, or click below to download our free guide to raising a family in the Hill Country.