Blessed with a location right on the Texas Wine Trail, the city of New Braunfels has several wineries perfect for spending an afternoon, throwing a special event, or picking up some great bottles of wine. Here are the New Braunfels wineries locals love.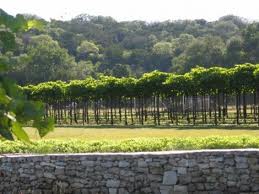 Dry Comal Creek is a premier Texas Wine Trail winery, located in an ideal location just across the highway from Vintage Oaks, the fastest-growing community in the Texas Hill Country. Considered the pioneers of black Spanish wine in Texas, the award-winning Dry Comal Creek also produces French Colombard, Orange Muscat, Comal Red, and 1096 Port. Dry Comal Creek opened in 1998, and offers a tasting room, gift shop, Winery U with winemaking and food-and-wine pairing classes, and annual grape stomps.
Vineyard at Gruene
Located in the historical town of Gruene in New Braunfels, Vineyard at Gruene features Texas wines made from Texas grapes, its own vineyard, a tasting room, and nightly special events including live music on weekends. They also sell wine, gourmet food, and other specialty items and host weddings and other events.
The Village Vineyard & Winery
This vineyard and winery produces Texas varietals including Blush, Late Harvest, Muscat, and Rosé. With a banquet room and meeting facilities, they can host conferences and special events. The Village also offers a Wine Club and wine tastings.
La Cruz de Comal
Named after "the old Mexican graveyard cross that is in the estate vineyard, La Cruz de Comal is a small-production vineyard and New Braunfels winery that creates approximately 300 cases a year of wine carrying the Texas Hill Country Appellation. Varietals include: Pétard Blanc; Rosé; Cohete Rojo; En Parejas; Troubadour; Aprés; and Quinta La Cruz. Older Vintages and rare bottlings are also available in limited supply. The winery's tasting room opened on the estate vineyard in 2012.
Water 2 Wine
With wine fermented on site and more than 100 wines from 13 countries, Water 2 Wine is a unique spot in New Braunfels that offers extended personalization. At Water 2 Wine, guests can imbibe, purchase from their private reserve, or even make their own wine with custom labels. The winery is also available for private events.
Want more information about Texas wines? Visit the Texas Wine Trail website or see this new article in the Dallas Morning News detailing some great Texas wines.
Come for a visit, stay for a lifetime
Those who live in New Braunfels know Vintage Oaks as the fastest-growing community in the Texas Hill Country. If you want more information on how to call this desirable community home, visit Vintage Oaks or click below to download the Hill Country Real Estate Buying Guide.