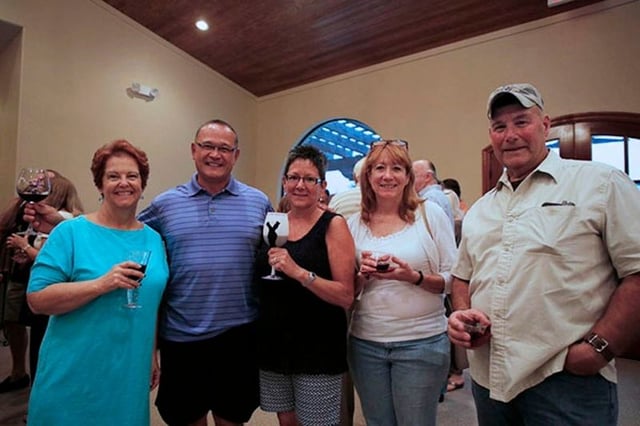 Vintage Oaks is the fastest-growing community in the Hill Country over the past three years, and one of the reasons for its ongoing popularity is the friendliness of those who live here. Not only is the community known for its exceptionally high 20% referral rate, but also for the strong friendships that naturally develop among neighbors. These friendships add to the desirability of the Vintage Oaks lifestyle, and they also have some long-term health benefits.
This article from Live Science outlines the different ways friendships can positively affect health. "Friendship isn't just about fun, fellowship and emotional health. Having friends can improve physical health, too," they said.
1. Friends may extend your life
People who have strong social relationships may live longer. "In fact, according to a 2010 review of research, the effect of social ties on life span is twice as strong as that of exercising, and equivalent to that of quitting smoking," they said.
While this is especially relevant for people who retire in the Hill Country at Vintage Oaks and who may naturally be focused on longevity, the idea of lowering stress and living a long life is important to everyone. "Researchers think that friendships and health are linked through the body's processing of stress, Claire Yang, a sociologist at the University of North Carolina, Chapel Hill, said. "The chronic stress that can come with isolation can switch on these processes for long periods of time, causing physical wear and tear on the body."
2. Your pals make you generally healthier
The effects of friendship versus isolation were reviewed in "four large studies of hundreds to thousands of people each, ages 12 to 91," they said, with biomarkers including "blood pressure, body mass index, waist circumference and levels of the inflammation marker C-reactive protein." The findings: "These measures of health were worse in people who also had weaker social ties."
Age was a factor in this study; among those who were older, "a lack of social connections more than doubled the risk of high blood pressure (raising it by 124 percent). For comparison, having diabetes raised the risk of high blood pressure by much less (70 percent)." Further, the researchers were able to note changes to these biomarkers over time "as a result of their earlier exposure to social connections, how many friends [they] have, how often [they're] talking to other people," Yang said. "That method bolsters the argument that social ties do cause health effects."
That's yet another benefit for those who live at Vintage Oaks and take advantage of the wide array of community amenities and social activities in the Hill Country and right in the masterplan. For many, Vintage Oaks' resort amenities, including the pools, waking trails, and Tuscan Clubhouse, and the many activities and events that take place throughout the year and that help build friendships in the community, are one of the main draws of living at Vintage Oaks.
3. Friendships might help keep your mind sharp
"Having friends who make you feel like you belong may be a key for better physical health," they said. "A 2012 study found that older people's dementia risk increased with their feelings of loneliness."
The study followed more than 2,000 residents of the Netherlands ages 65 or older over three years. None of the participants had dementia at the beginning of the research, but 13.4 percent of those who said they felt lonely at the start of the study developed dementia during the study period, compared with 5.7 percent who didn't feel lonely."
4. Friendships can last a lifetime
"In an era when people move around a lot for school and jobs, maintaining friendships can be difficult. However, research finds that distance doesn't have to dampen a friendship. In one study, researchers followed college friends beginning in 1983, asking them about their friendship and sense of closeness. They found that physical distance didn't necessarily track with the emotional closeness of a friendship over decades."
That's great news for the many Vintage Oaks land owners and custom home owners who moved from Houston and throughout the state and want to stay in touch with old friends. And, it's even better news for the new friendships that can thrive at Vintage Oaks. Love wine tasting? How about yoga, bunco, or hiking? Those are just a few of the ongoing activities at Vintage Oaks that bring neighbors together as friends.
For more information about living in the Hill Country and building a custom home in New Braunfels, visit Vintage Oaks. The fastest-growing community in the area for three straight years, Vintage Oaks is located in the heart of New Braunfels on the Texas Wine Trail, offering a range of Hill Country land for sale as well as semi-custom and custom homes. homes for sale.
You can also click below to see new homes that are now avaialable.