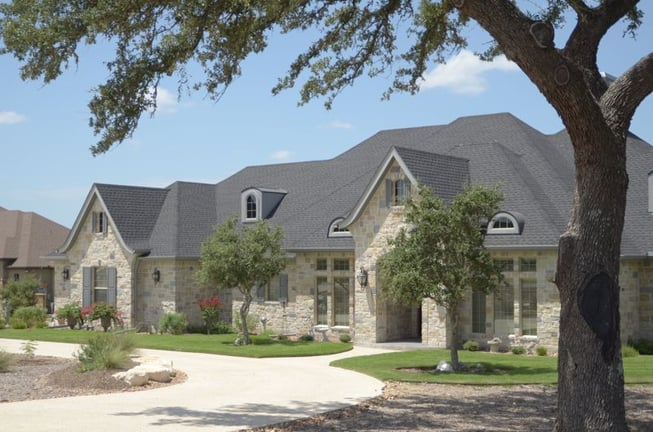 Designing a custom home is thrilling and challenging, often at the same time. Knowing what to include and how to make it all flow may take time as you develop new home plans that make sense for your family and build in the kind of value you demand. To create modern homes suitable for today's families (and real estate market), start with a few must-haves.
A gourmet kitchen
Chintzy finishes and entry-level appliances just aren't going to cut it today. Even many first-time buyer homes are being decked out with chef's kitchens and high-quality amenities. If you're building a custom home, you'll want your kitchen to be a showplace, with luxurious finishes and top-of-the-line appliances. Consider commercial grade, which can elevate a kitchen even further, and a catering kitchen if you entertain or simply want to keep small appliances and kitchen accessories out of sight.
Windows, windows and more windows
One of the great advantages to building in the Hill Country is being surrounded by such spectacular natural beauty. You'll want your home plans to take advantage of the setting and maximize views. Modern trends include entire walls of windows or doors that can be opened completely to let the outdoors in.
Spa baths
Great attention is being paid to today's bathrooms, with ample space and luxurious materials combining to create a spa experience. Sleek countertops, exotic tiles, and elegant hardware bring the aesthetics. But underneath the pretty stuff is important function. Double sinks in master and secondary baths, large, freestanding tubs, steam showers, and extras like radiant heating in floors and heated towel racks can help a bathroom stand apart.
Guest suites
Guest rooms are nothing new, but today's custom homes are taking them to a new level. Guest suites with attached bathrooms—as well as separate living rooms and kitchenettes in some spaces—are ideal for everyone from overnight guests, to older kids, to multi-generational living arrangements. By and large these suites are being built on the first floor to accommodate easy entries/exits and address any mobility issues.
Ample outdoor living space
It's not enough to set aside room for a 10x10 patio and a patch of grass--especially in an area where scenic surroundings and natural beauty is part of the allure and there is acreage to spare. Today's outdoor spaces are an extension of the interior. Areas for sitting, dining, and preparing a meal in the yard are key. So are features that extend the use of the space, whether it's installing fans and curtains for shelter during the summer or heaters and a fire pit for cold, crisp fall evenings.
Orientation of the outdoor space is also important. A seating area gathered in front of an outdoor fireplace that looks over the Hill Country's rolling hills or a terrace that allows you to watch the sunrise from the master bedroom can increase enjoyment of the home and help it to stand out if and when you go to sell.
Choosing the right piece of land of also critical to making the right outdoor—and indoor—space a reality. Carefully considering the potential of specific lots in different communities according to your list of must-haves for your home will help you to narrow down your options.
For many of today's custom homebuyers, the easy choice in the Hill Country is Vintage Oaks, the fastest-selling community in the area. Vintage Oaks offers an array of acreage properties ranging from 1 to 14 acres, with wooded, view, cul-de-sac, greenbelt, and equestrian sites in both gated and non-gated neighborhoods. The masterplan is also noted for its array of resort-style amenities, including pools, a lazy river, a Tuscan Clubhouse, ball fields, and walking trails.
For more information, visit Vintage Oaks or click below to view our Newest Homesite Release.