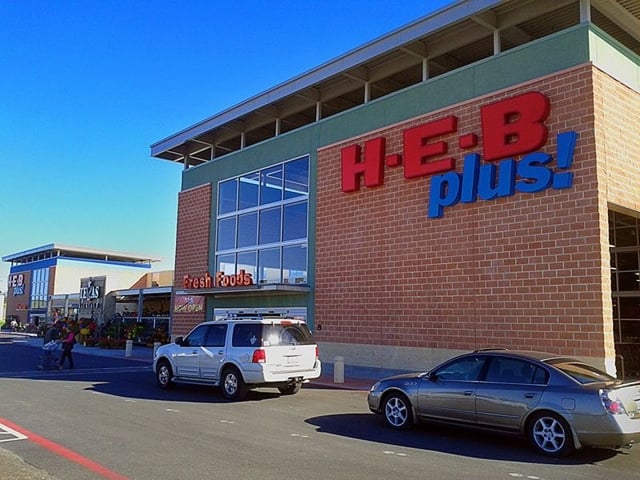 There's no rest for the second-fastest growing city in the nation as important new amenities and impressive employment growth continue to make New Braunfels one of the country's prime places to live. The city's new HEB Plus, started just six months ago on New Braunfels' Northeast side, has opened with great fanfare. The first-of-its-kind store in the city brought a multi-million-dollar commitment from HEB, more new jobs, and a new level of shopping convenience and excitement for those living in New Braunfels.
"This new HEB — 140 new jobs, $3.4 million which we will see in tax revenue in the next 10 years in the city of New Braunfels — is a great accomplishment," New Braunfels Mayor Barron Casteel said in the New Braunfels Herald-Zeitung. Casteel was one of many community leaders and area residents who attended the ribbon cutting and were among the first to shop at the new store, which is located on Farm-to-market 306 at Interstate 35. Natalie Rougeux, board chair of the Greater New Braunfels Area Chamber of Commerce; Kelvin Boone, general manager of the new HEB Plus; and Suzanne Wade, HEB's San Antonio Food and Drug Division president, were also in attendance.
The 120,000-square-foot store includes goes beyond supermarket staples with several features that are unique to HEB Plus:
An entertainment department with electronics including gaming systems and televisions
A bakery with its own tortilleria
An area called "Texas Backyard" that offers outdoor furniture and barbecues
A River Gear department for all your tubing necessities
Curbside pickup service for online orders
Its own 24-hour gas station
Another boon for the local economy
New Braunfels' economy is booming, with consistent job growth and real estate growth. Recent employment growth in New Braunfels includes Canadian-based CGT U.S. Limited bringing hundreds of jobs to the city and the world's largest retailer, Amazon, building a new 855,000-square-foot fulfillment center in neighboring San Marcos and adding 1,000+ new jobs. The New Braunfels real estate market reflects the desirability of this growing area between Austin and San Antonio. According to data from the Texas Association of Realtors, home prices, active listings, and single-family homes sold were all up in the first quarter of 2016, while days on market dropped from 74 to 67 and months of inventory dropped from 3.5 to 3.2.
Decreasing inventory in the area, with homes in the Hill Country moving quickly, is a familiar tale, and one that has continued to drive New Braunfels home buyers toward alternative real estate options like buying land in the Hill Country. Vintage Oaks is the fastest-growing community in the Hill Country for the last three years, offering buyers a range of New Braunfels land for sale in both gated and non-gated neighborhoods plus an array of resort-style amenities including pools, a lazy river, walking trails, and ball fields, and a desirable location right on the Texas Wine Trail.
For more information, visit Vintage Oaks. You can also click below for an interactive map of the newest homesites.