New Braunfels is the type of place that invites fun and festive activities all year long, with festivals and events that showcase the desirability of the location and all it has to offer. Especially in the fall, when cooler temps and beautifully hued foliage make the stunning views even more breathtaking, people simply can't get enough of this place.
Not surprisingly, some of the most popular New Braunfels events of the year take place in the next few months in the city and throughout the Hill Country. Here are the ones you'll want to make sure and mark on your calendar this year.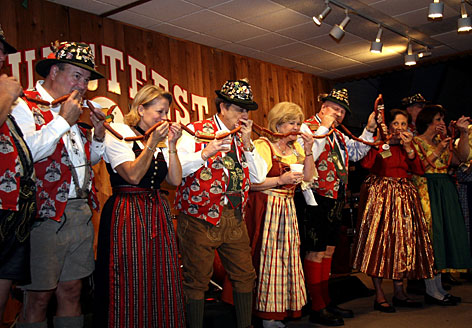 September
Comal County Fair & Rodeo - Sep 19-28, 2014
This premier Texas Hill Country event brings out thousands of revelers for a carnival, entertainment, a rodeo, a BBQ cook off, a poultry show, and a parade. Get more info on their website.
Fall Food & Wine Festival - Sep 27, 2014
Wine and food tastings from some of the Hill Country's favorites wineries and area's restaurants are on tap. More information is available here.
October
Gruene Music & Wine Festival - Oct. 9-12, 2014
This popular annual festival is a four-day celebration of Texas tunes, tastes, and favorite drinks. Wine and beer tasting, live music, food trucks, and crafts are all part of this event that continues to grow every year. Held in the Gruene Historic District, the charity event benefits the United Way of Comal County. More details are available on their website.
Texas Clay Festival - October 25-26, 2014
Now in its 22nd year, the Texas Clay Festival in the town of Gruene in New Braunfels offers a unique opportunity to learn about, view, and purchase work from more than 60 Texas potters and clay artists. See more information here.
Hill Country Wine Trail Month - Oct. 1-31, 2014
A month-long celebration of the Texas Wine Trail with self-guided tours of 42 participating wineries and food and wine pairings. Get more details on their website.
Dripping Springs Fair & Rodeo - Oct 2-5, 2014
Family fun for three days with a carnival, team roping, barrel racing, and chili cook off. See more details here.
Oktoberfest - Oct 3-5, 2014
An annual celebration of the area's German heritage with Fredericksburg's unique style. Family entertainment, music, art & crafts, children's fun area, a German Bier Tent, and an Oktoberfest Vineyard area. More information is available on their site.
Songwriters Festival - Oct 17-19, 2014
An annual event showcasing local and national songwriters with performance stages throughout the historic downtown Mercer Street walkway. Free admission. Get more info here.
Kerr County Fair - Oct 24-26, 2014
Come out for a carnival, contests, 4H & FFA livestock exhibits, roping, a bull and barrel contest, a parade, chili and barbeque cook-offs, a petting zoo and pony rides. See more info on their website.
November
Wurstfest - November 7-16, 2014
Within New Braunfels, Wurstfest is not just a fun local event (although it most certainly is that!), it is also an event that draws visitors far and wide for a 10-day salute to sausage. And, of course, New Braunfels' German heritage. The festival has grown into one of the state's premier events since it began in 1961, with food and fun, live music, carnival games, local and German beer, and entertainment. Get more information here.
Train Show - Nov 15-16, 2014
Sponsored by the New Braunfels Railroad Museum, this event invites kids to be a junior engineer and run the trains, view a large Lego trains exhibit, get a free ride ticket to the Landa Park Miniature Train. Layout, and see traveling model railroads. Get more details here.
Blanco Western Showcase - Nov 7-9, 2014
It's good-ole western fun with a chuck wagon cook off, silent auction, carriage rides, kids corral, live entertainment, and a dance. See their website for more information.
The Peddler Show—Perfect Street of Shops - Nov 28-30, 2014
This Thanksgiving weekend gift show offers three buildings full of unique holiday gift options including handcrafted art, fashion, gourmet food, and jewelry. Get more details here.
Santa's Big Night & Starry Starry Nights - Nov 28-Dec 30, 2014
Santa comes to Llano's Badu Park, accompanied by at trail of Christmas lights, live entertainment, a lighted 55-foot Christmas tree, a 30-foot snowman, a parade on the Square, and Saturday snow days. See more on their website.
December
Holiday Wine Trail in the Hill Country - Dec. 5-21, 2014
This wine and food pairing event includes self-guided tours and complimentary chocolates. Get more information here.
Kinderfest - Dec. 6, 2014
Holiday festivities for kids with singing, stories, and crafts, plus kids can bring their stockings, which will be filled with goodies by Santa while they are having fun. More details are available on their website.
If you're looking for a place in the Hill Country to put down roots, buy land on which to build a custom home or for retirement, look no further than Vintage Oaks, the fastest-growing community in the area. You can learn more by visiting Vintage Oaks or downloading our Hill Country Real Estate Buying Guide below.