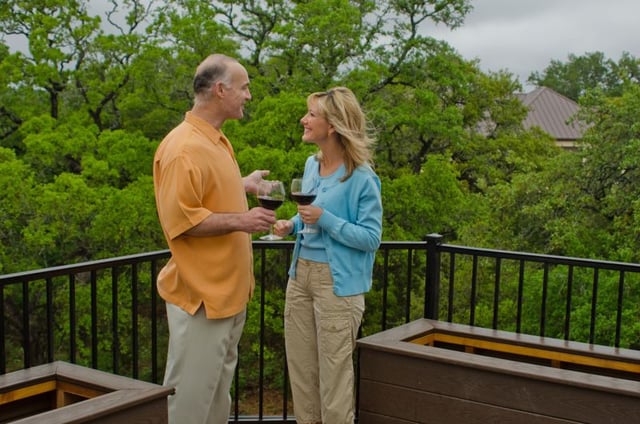 For many people, retirement is synonymous with moving down. But that's far from what many of today's retirees are doing. A growing trend among Texas retirees is buying land in the Hill Country and building a custom home for retirement. This allows buyers to enjoy their retirement in a location of their choosing and a home that has been custom built to their needs.
So what are retirees looking for in their custom home? The main driver continues to be location, whether it's a warmer climate, one where there are part-time jobs available for those who want to continue working in some capacity, or those who want to move closer to family—a few more current retirement trends. Beyond that, retirees building a home in the Hill Country, especially boomers, "want modern appliances, energy-efficient doors and windows, spacious kitchens, an open floor plan with lots of light and fresh, new décor," said US News. "And a lot of them…are opting for one-story housing."
Thanks to ample Hill Country land in communities like Vintage Oaks in New Braunfels, Texas land buyers can design a sprawling one-story home on a minimum of a one-acre lot and still have plenty of room for outdoor living. Many of today's retirement home buyers are also designing a custom Hill Country home that lives like a one story with adaptability and room for visitors upstairs. Retirees are "planning for the day when their mobility will decrease and 'boomerang' kids might move back in, or they'll have to care for an aging parent or relative in their home," said Custom Builder.
Other features they're looking for: "high-end finishes in their kitchens and baths, reminiscent of a fine hotel…and demand is increasing for smart-home technology that integrates the home's HVAC, security, lighting, and entertainment systems into a touch-screen panel that communicates with the client's cell phone," they said. "Multiple outdoor spaces for dining, entertaining, and relaxation are a must. Clients also prefer a large, open family room and kitchen with an island eating bar. Since these clients are planning for the future, universal design is important. So is sustainability, with a focus on energy savings."
Building a custom home as a future retirement home
It's not just current retirees who are building custom retirement homes in the Hill Country. Pre-retirees are securing their future by building a custom home to enjoy as a second home or vacation home now—one that they can live in full time later.
"When you're ready to retire, there's surely a manicured, gated subdivision with stair-free designs and an unchallenging golf course in your area. And the easiest (and perhaps least costly) decision is to stay in place and carry on, sans the commute," said Kiplinger. "But there's another way: Buy or build a retirement home before you retire. You can enjoy it now for recreation and relaxation, years before you get the gold watch."
Custom Builder featured several custom retirement homes across the country, including one in the Hill Country that "was originally built as a family retreat for an empty-nester couple from Houston, and will become their primary residence when they retire in the next few years," they said.
"There are three distinct elements, designed to offer privacy and comfort for long-term guests. The main house encompasses a great room, kitchen, dining room, and master suite, oriented on a north-south axis to frame the view of distant hills to the north. A casita with two bedrooms, two baths, a kitchen, and a living area is connected to the main house by a dogtrot (breezeway). The third element is the Bird's Nest, an efficiency apartment over the garage that has a covered deck."
For more information about building a custom retirement home in New Braunfels and retiring in the Hill Country, visit Vintage Oaks or click below to download the free ebook "Living and Retiring in the Texas Hill Country."