Tubing is a favorite recreational activity, especially in New Braunfels, where the rivers offer great fun and scenery to match. Paying attention to a few important rules will ensure that everyone stays safe while they're enjoying the ride. Here are some safety tips for river tubing in New Braunfels, Texas.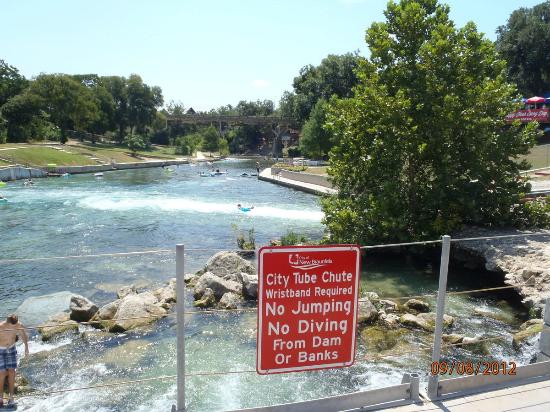 Follow the rules
You can have fun and be safe at the same time by abiding by the rules set for the river. If you're not sure what they are, look around. Posted signs will clue you in.
Life jackets for everyone
Yes there are those who will insist on not wearing a life jacket. Ignore them. Accidents happen, even to the strongest swimmers. Be the one who lives to tell the story, not the one who becomes a cautionary tale.
Drink in moderation
Yes, drinking is allowed on the river. But that isn't an invitation to get fall down drunk, because falling down in a river tends to mean drowning. Different rivers have different rules for drinking; be sure to check the river's website ahead of time so you know what you can bring on the water and what behavioral rules are expected. And, of course, it goes without saying that you'll want to abide by all legal guidelines. Texas state law mandates no public drinking between the hours of 2:15am and 12 noon on Sunday.
Keep it legal all around
Speaking of legal guidelines, you'll want to make sure everyone in your group is of legal age for tubing. Children are typically allowed if they're five or older, but, again, different rivers might have different rules, so check before you go.
Get to know the river and check conditions before you take off in a tube
Each river has its own twists and turns, and while we're not talking about the Kern River rapids, there are some dangers that could surprise you, particularly the stronger current of the Guadalupe. Currents can change depending on water levels and weather conditions, so be sure to do your research before you go.
Protect your skin
The sun is hot. This is Texas after all! You may not feel it while you're surrounded by the refreshing water, but if you're not slathering on the SPF 30, you're getting sunburned. In addition, you'll want to bring sunglasses and something to cover your head, said River Sport Tubes, to "help shield your face, eyes and head from the rays."
Eat, drink, repeat
It can take a few hours to float the river depending on where you go. You'll want to make sure you have enough drinks to stay hydrated while you're in the sun and on the water, and snacks to keep everyone's energy up. Be sure to ask ahead of time if there are any rules for what can and cannot be brought out onto the water (you can't take glass containers, Styrofoam coolers, or family-size ice chests on the Guadalupe River).
Read the directions if you're inflating your own tube
"Different inflatables are built for different weight limits, ages…riding styles," said Boats.com. "Make sure everyone involved understands and follows the proper precautions, and that your riders match the requirements of the inflatable. Also, pay particular attention to the inflatable itself. Make sure it's blown up to the proper tension."
Dress appropriately
Anything that could get tangled or restrict movement could become a danger. Make sure not to wear anything you wouldn't wear to swim. But, add shoes to the mix. You want to protect your feet from sharp rocks and slippery surfaces. Water shoes or river sandals are your best bets.
Make it more convenient
The best thing about a day on the river is being able to get there—and get home—quickly. This is just one of many reasons Vintage Oaks is the fastest-growing community in the Texas Hill Country. Visit Vintage Oaks for more information or request a tour by clicking the link below.