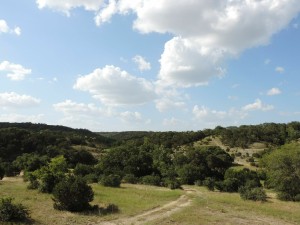 Thinking about buying land in the Texas Hill Country? It's an idea shared by many who have discovered the natural beauty and ample opportunities offered by this magical place. But, before you start driving around in search of the perfect homesite, heed a few tips to make sure you're able to find what you really want.
Determine your most important factors
Is location most important? Or maybe acreage is a driving factor. Making a "Top 10" list that clearly defines your priorities, like views and great schools, is a great first step because it helps you to focus on what's really important. A list of "dealbreakers" will help you keep your eye on the ball and also help you from becoming distracted by something that may be pretty but meets none of your other clearly identified needs.
Think hard about the location
Thinking you may want to live in a rural location? Have you considered all that rural living entails? You could be far from the closest supermarket, gas station, and favorite restaurants. The idea of ultimate privacy may not sound so great anymore when you have to drive 30 minutes to get to Target.
Securing your land and getting it ready to build on may also be challenging. It can be harder to secure a loan on raw land. Raw land typically is also going to require utilities and improvements that won't be necessary on land that's already been improved, which is why many Texas landbuyers opt to buy property in a masterplanned community.
Choose your size
Have you thought about the size of your lot? Many landbuyers know they want acreage, but that can mean one acre or 1,000+.
In thinking about the lot size, a few things to consider are:
How large your home will be. Some communities will have minimums and maximums related to the size of home you can build on a particular lot. Beyond their requirements, you probably have some of your own. Envisioning a rambling one-story home (with a large pool, huge grassy area, and fully-decked out outdoor kitchen and living room)? You might need more space than you think.

How much of the land is buildable. Not every Hill Country homesite is wide and flat and free of slopes or trees.

How much frontage you want. This can also affect the building envelope.

How much maintenence is involved. Are you ready to get that riding mower?

Your budget. While there are a lot of factors involved, like location and topography, a larger lot many times means a larger price tag.
Talk to a builder
There are differing opinions on when is the perfect time to get a builder and/or architect involved when buying land in the Texas Hill Country. Generally, the sooner you do so, the more input they can have, which can be key to choosing the right lot location, orientation, size, and community.
Sometimes, finding the right builder is the hardest decision involved in the process of buying land and building a custom home. Programs like Vintage Oaks' Builder Match can help ease that process by putting Vintage Oaks' network of homeowners to work for you and providing builder recommendations based on their own experiences.
Think about working with a real estate agent
No matter how well you know the Hill Country, there are bound to be land options you're not aware of. It's a real estate agent's job to know what's out there, and what's coming, which can open up Texas land opportunities you may not have considered. They may also be better equipped to narrow down options that meet your needs, which can make the process of buying easier and allow you to get to the building stage more quickly. The more you communicate what you want—and what you don't—the more successful your search will be.
Once you start to narrow down specific areas or communities, your real estate agent will most likely introduce you to the community sales professionals, who can provide you with another layer of information about available land as well as important community features, and show you specific homesites.
Make your purchase
Once you've found the land for you, it's time to sign on the dotted line. Unless you're paying cash, you'll be securing financing on your land. The sales professional in the community you've chosen should be able to refer you to a lender, if you don't have one. Be sure to ask about a "one-time close" for your land loan and home mortgage, which will streamline your paperwork.
Now, it's time to start building your custom home!
For information on buying land in the Texas Hill Country, visit SouthStar Communities or learn more about who we are below.