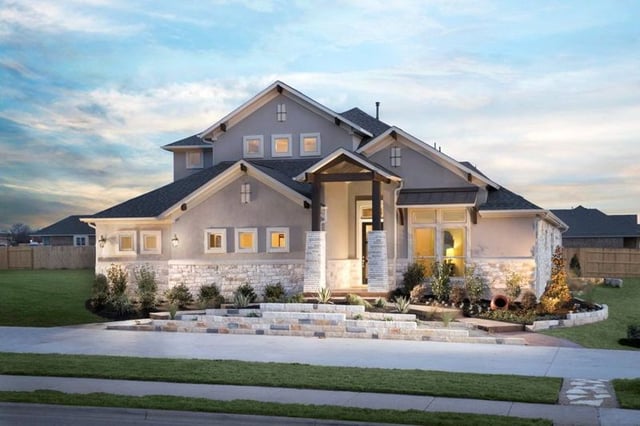 Sales of new U.S. single-family homes are at a 10-year high—a trend being seen across the country and especially prevalent with Texas Hill Country homes. Here, Vintage Oaks' newest community, The Grove, is making a splash with brand-new builder homes that offer an exceptional lifestyle in the area's premier masterplan but with a smaller footprint.
"Purchases of newly built single-family homes rose in November to the highest level in more than a decade as the housing market appears poised to end 2017 on a high note, said the Wall Street Journal. "Sales increased 17.5 percent in November from the previous month. It was the strongest pace since July 2017."
New home sales "are a leading indicator" of overall market strength, said NASDAQ, who noted that these numbers are "the latest indication that housing was regaining momentum. It underscored the economy's strength early in the fourth quarter."
Texas Hill Country homes makes their mark
Mild weather across the country early in the fourth quarter contributed to the strong sales pace, economists say, and that included in the South. Sales "rose 1.3 percent in the South also to a 10-year high" in October and "more than two-thirds of the new homes sold last month were either under construction or yet to be started," they said.
Texas has been ground zero for this growth, and, sales of Texas Hill Country homes at communities like The Grove have demonstrated strong market demand. Everyone from first-time buyers to retirees have embraced Vintage Oaks' first-ever new homes with a smaller footprint; this new community affords homebuyers the opportunity to enjoy a lower-maintenance alternative to acreage properties. The Grove's new homes are built by three of the area's most respected homebuilders, with more than 60 floorplans offered, ranging from 2,100 to more than 3,500 square feet with lot sizes from 60–75' wide.
The Grove also offers features 100 acres of natural beauty and Hill Country views, with most homes backing to serene open space, and easy access to Vintage Oaks' famed amenities. A brand-new Fitness Club is also coming to the community this year, with: a lap pool; outdoor fitness area; cardio rooms; weights and machines; a flex room for fitness classes; saunas; and a spa.
Vintage Oaks is a 3,300-acre masterplanned community and the fastest-growing community in the San Antonio area for more than four years. In addition to the new Texas Hill Country homes at The Grove, the community offers Hill Country land ranging from 1 to 14 acres in gated and non-gated neighborhoods plus custom and semi-custom Texas Hill Country homes.
For more information, visit Vintage Oaks. You can also view the floorplans at the link below.