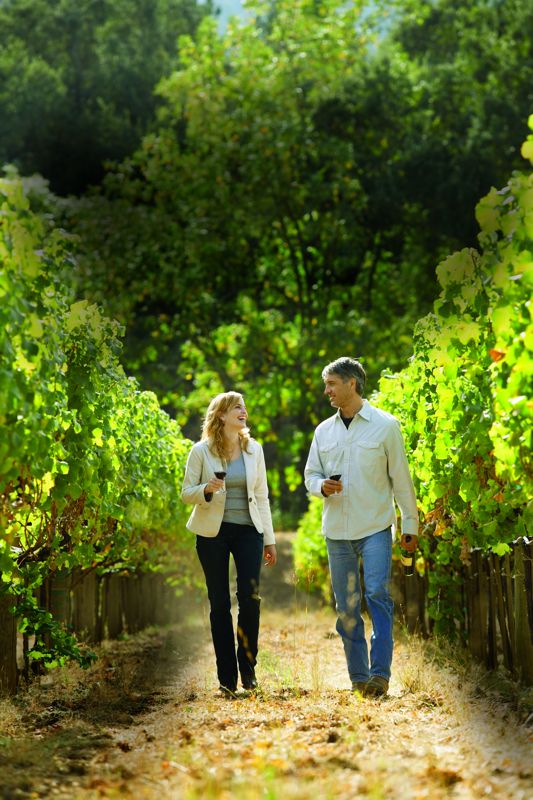 When talking about the world's best wine regions, all the usual suspects are there (Hello, Tuscany, Italy; Napa Valley, CA; and Bordeaux, Burgundy, and Champagne, France), but there are also a few surprises on today's list. With "just 10 countries producing 80% of the wine on the planet," said Wine Folly, you might think it would be hard to make an impression. But a few areas are getting noticed. "Each year we discover more countries producing wine. For instance, did you know there are vineyards in the Gobi Desert? It's no doubt that up-and-coming wine regions are intriguing," they said.
Included on Wine Enthusiast's list of the "10 Best Wine Travel Destinations" are some old favorites and expected names, but also appearing are: Baja, CA near the border of coastal Mexico; Mendoza, Argentina; and Walla Wall, WA. And then there's the fact that experts are wine lovers are increasingly gushing over the best Texas Hill Country wines. This Texas area is perhaps the most surprising place to see atop a list of best wine regions in the world—but only for those who haven't yet discovered Texas wine.
CBS News did a report on Texas wines in 2015, mentioning the Hill Country as well as West and Texas wineries noting the growth of the regions. The report backed up what publications like Wine Enthusiast have been saying for years: "Everything really is bigger in Texas: it's the No. 5 wine-producing state in the U.S., the Texas Hill Country AVA is the second largest in the nation, and its most promising wines boast supersized flavors," they said.
The magazine heralds Bending Branch Winery in Comfort as "a trailblazer in sustainable winemaking in the region," Johnson City's Lewis Wines, whose "releases are made from 100% Texas grapes," Flat Creek Estate in Marble Falls, which "boasts walking paths, a scenic outdoor patio, onsite restaurant and Tuscan-style dining room, and Perissos Vineyards and Winery in Burnet, an "out-of-the-fray vineyard that handcrafts estate-grown wines.
Competing with Europe
Most wine experts and wine lovers agree that three of the top wine regions in the world are in Europe—France, Italy and Spain. "They produce almost half of all the wine produced in the world," said Wine Folly. "To help you wrap your brain around the sheer volume of wine they make: The top 3 wine regions in the world make enough wine to fill 5,127 Olympic-sized swimming pools."
When it comes to wine produced in America, 90% is said to come from California. "California is home to the world's largest wine producer, Gallo, in Modesto, CA," said Wine Folly. But the wines from the Texas Hill Country are gaining on them.
Spain is the world's largest producer of Tempranillo, but this wine is also thriving in the Hill Country, particularly at Pedernales Cellars in Stonewall, which has won a number of impressive awards, including double gold at the prestigious San Francisco International Wine Competition, for their Texas Tempranillo Reserve 2012 (Becker Vineyards in Stonewall also won double gold for its Texas Hill Country Mourvedre Rose 2013; Grape Creek Vineyards in Fredericksburg won gold for its 2012 Texas Cabernet-Syrah blend; and Duchman Family Winery in Driftwood won a gold for its 2011 Texas Aglianico in the same competition). Further, Pedernales' Viognier Reserve 2012 was also chosen in a blind taste test conducted by Texas Monthly as one of the Top 10 wines of 2013, and was awarded a Grand Gold Medal in the Lyon International Wine Competition—the only U.S. winery to receive such an honor, they said.
For more information about Texas Hill Country wines, visit Vintage Oaks. This Hill Country masterplanned community is located right on the Texas Wine Trail and offers Hill Country property for sale, with New Braunfels acreage homesites and homes and an array of resort amenities. You can also click below to view our new drone video of Deer Creek.