One of the great benefits of living in a master planned community is the array of amenities for the use of residents. For those who have children, master planned amenities are a huge draw, and just the beginning of the activities that help them stay engaged and having fun.
The importance of staying active
Regular exercise is key to remaining healthy throughout your life. Kids may not realize when they're running in the park or playing catch with Dad that they are actually doing great things for their body while they're enjoying themselves.
According to KidsHealth, "Exercise means playing and being physically active. Kids who are active will:
Have stronger muscles and bones
Have a leaner body because exercise helps control body fat
Be less likely to become overweight
Decrease the risk of developing Type 2 Diabetes
Possibly lower blood pressure and blood cholesterol levels
Have a better outlook on life
Some of the best kid activities in a master planned community include swimming, walking and running, and playing sports.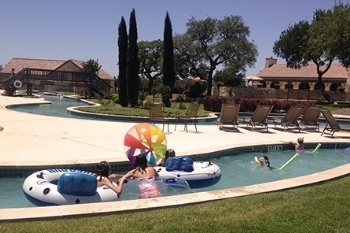 Swimming
Many master planned communities have a family pool or kids pool in addition to the main pool. This provides residents with a great space to enjoy water play in a child-safe environment without having to interact with adults who may want to enjoy an adult space. Some communities, like Vintage Oaks in New Braunfels, also have a lazy river, giving kids another outlet for water fun and parents a resort-type atmosphere they can enjoy every day.
Athletics
A master plan that has ball fields and sports courts within the community gives kids an opportunity to run, play, be part of a team, and build important life skills learned through sports. Depending on the community, you can find tennis and basketball courts, baseball and softball fields, and even golf courses.
Walking Trails
Walking is an activity enjoyed by all ages. Trails that wind through communities not only provide easy access for family walks, but can also be a great place to enjoy nature.
Playgrounds
Kids may not recognize that they are engaging their core when they're swinging on the swings or working their leg and abdominal muscles while climbing a jungle gym. That's the great thing about kids being active—they enjoy the benefits without even thinking about it!
For more information about master planned living, visit Vintage Oaks or click below to learn more about family-friendly amenities at Vintage Oaks.