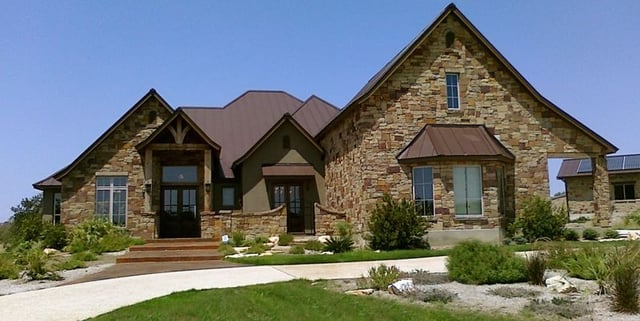 In all the excitement of buying new Texas Hill Country homes, it can be easy to lose sight of the real costs. You've probably been focused on your down payment, but that's not the only expense you'll be responsible for paying before you get your keys. The following addresses a few of the hidden costs so you'll know what to expect.
Closing costs
Closing costs are part of any real estate transaction, and you'll pay them whether you're buying a new home or existing property. "These days, closing costs on a new house typically range from two to four percent of the sales price," said the Washington Post. "Naturally included in those fees will be the costs associated with obtaining a mortgage and expenses payable to the closing agent (or title company)."
Upgrades and options
If you're looking at brand new Texas Hill Country homes you're probably thinking about standard features versus options and upgrades. "Standard" refers to the way the home as it's offered from the builder, with the floorplan, features, and finishes presented as is, with no changes. Many new homes offer options that allows buyers to turn an unneeded bedroom into a den or loft, or add a covered patio, for instance. These options will generally increase the "base" cost of the home. Upgrades to features and finishes can also increase the home price. Want a nicer grade of granite than what is offered as standard? Maybe you want wood floors throughout the home instead of carpet and tile in select areas. These are just a few of the upgrades you may have access to that will allow you to personalize the home to your taste and style. But, they don't come free.
Your sales professional in the community in which you're buying will walk you through the available options and upgrades and the costs associated, but, keep in mind a few benefits of upgrading with the builder instead of waiting until later:
The builder will complete the upgrades for you, which means they'll be done professionally.

They'll also be done before you move in, so you don't have to deal with the hassle of renovations when you're trying to enjoy your home.

Anything you add that the builder provides and installs will also be included under your home warranty.

You don't have to pay out of pocket. Builder upgrades can generally be into your loan, as long as you aren't going to exceed your approval amount.
If you're not sure where to spend your upgrade money, houselogic has some great tips.
Moving
Now that you've bought that great new house, it's time to move in. Have you looked into the costs of moving? They can vary wildly, from the more minimal costs (but maximum effort) of doing it yourself, to several thousand dollars depending on how far you're moving, how much stuff you have, and the company you use. If you haven't considered moving costs or if you're just developing your budget, experts say it's best to get several quotes from reputable sources—look to friends and family for referrals!—and look them over carefully. Common mistakes when choosing a mover are: going with the least expensive quote, which can backfire if the company isn't reputable or if you don't do enough research to ensure you're protected contractually; or assuming that you have to go with the highest quote because costing more must mean they're better. See Real Simple for some top tips for choosing the best mover.
Utilities
If it's been a long time since you bought a new home, you may not remember that there are costs involved in switching on utilities, cable, etc. While these costs will generally pale in comparison to the overall costs of buying a new home in the Hill Country, they'll still help you establish a budget. While you're researching utilities for your new home, you might have more to consider than you have in the past. Are utilities deregulated in the area you're moving to? Is the cable provider you prefer to use available in this area? How's the cell phone reception with your current carrier? There may be cost considerations involved in these decisions as well as other factors in determining what works best for you.
For more information, visit Vintage Oaks. This 3,300-acre master-planned community located in New Braunfels offers land ranging from 1 to 14 acres in gated and non-gated neighborhoods as well as new Texas Hill Country homes. On-site resort amenities include multiple pools, a lazy river, ball fields and trails, and a Tuscan Clubhouse. Vintage Oaks is the fastest-growing community in the Hill Country for four straight three years. You can also request a copy of the new interactive map for Vintage Oaks' newest community of The Grove below.