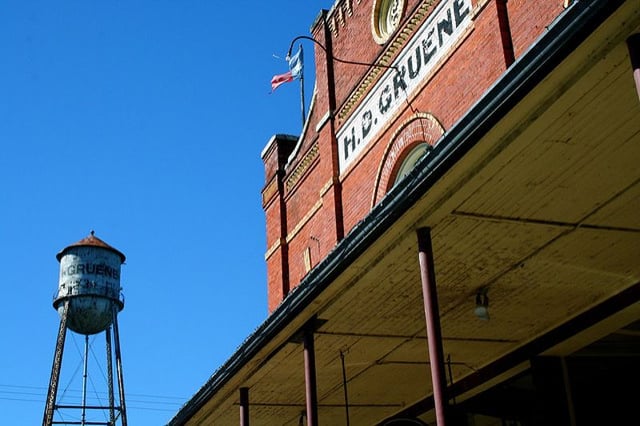 Although it can be hard to drag yourself away from the beautiful scenery and recreational outings, the shopping is another valuable reason to love living in the Hill Country. Here are all the spots you'll want to check out.
New Braunfels
Downtown New Braunfels is filled with charming antique shops in its historic main plaza. The Downtown Antique Mall offers 12,000 square feet of antique furniture and collectibles from more than 40 dealers while Red Rooster World's 25,000 square feet is filled with more than 65 booths filled with vintage and antique items. You'll find convenient big box stores and shops at centers like Town Center at Creekside and New Braunfels Market Place. Just next door to the city is the Premium Outlets, named the third-best place to shop in the world by ABC's "The View" and among the "Best places to shop" by the Austin Business Journal.
Gruene
Located within the New Braunfels city limits and listed in the National Register of Historic Places, Gruene offers historic charm at every turn and a variety of unique stores selling everything from clothes and home furnishings to Texas gifts and homemade fudge. Be sure to pick some up at Gruene General Store, named one of the 40 best places to visit in Texas. Visit on the third weekend of the month during Gruene Market Days, when the town really comes alive.
Boerne
The Hauptstrasse is Boerne's main street, and it's filled with quaint shops and antique stores, and then some.
"The primary Boerne tourist attraction, truth be told, is the Hill Country Mile, a long, lively stretch of Main Street, with a whole day's worth of shops, busy restaurants, historic buildings, more shops, parks and unique places to stay," said the Houston Chronicle. "Into rummaging multi-vendor antique - and old stuff - shops? The Boerne Emporium and Antique Mall will keep you off the streets awhile. For more of a big city galleria and boutique style, there are the upscale shops in Boerne City Center, such as Moon Mippy stationery, and Las Finezas Fine Gifts."
Fredericksburg
Shopping is one of the main draws of Fredericksburg, and with more than 150 shops ranging from antique dealers to fashion havens to handmade artisan works, it's no wonder. Der Kuchen Laden has been referred to as the Disneyland of kitchen stores and Dogologie is the place to go for "all things dog."
Kerrville
Kerrville's picturesque Main Street is an historic downtown district filled with unique shops. Get lost looking for treasure in the Sunrise Antique Mall. On the other side of the shopping spectrum is the River Hills Mall, home to Belk, Bealls, JC Penney, and dozens of other stores. Kerr Market Days, with 40,000-square-feet of goods, crafts, and produce is enjoyed the first weekend of the month.
Wimberley
If you can drag yourself away from the natural scenery and wine tasting in Wimberley, the shopping offers another great way to spend some time in this charming city. Shop The Tree House is a favorite spot for gifts and specialty items, as is Taste Buds, especially for wine, sauces, salsas, and other canned and bottled items. Stop into Wimberley Glass Works to watch hand-blown glass items be made and don't leave without visiting the Wild West Store in downtown, where the owner has a well-earned reputation for helping you choose the perfect pair of boots.
For more information about living in the Hill Country, visit Vintage Oaks. This collection of popular Texas cities only continues to grow with those who want to buy land in the Hill Country and build a custom home in New Braunfels and other favorite cities. You can also click below to view the new drone video of the Deer Creek neighborhood.