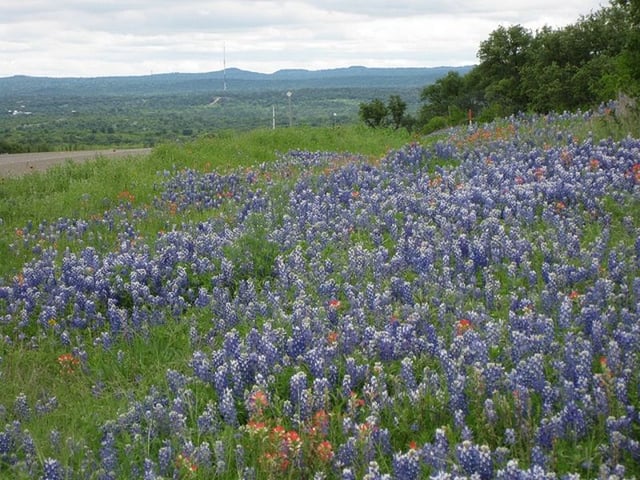 It's time for one of the Hill Country's favorite events. The Wine and Wildflower Trail begins today, with 48 participating Hill Country wineries ready to show off their wine and the incredible scenery. What could be better than exploring the various wineries of the Texas Hill Country and checking out the area's vibrant wildflowers this time of year? Doing them at the same time!
"It's warming up and we are all ready for Spring! Wildflowers, the warmth of the sun and of course, the Wine and Wildflower Trail! Get out and take a trip to as many as 48 participating wineries during this picturesque trail, April 1-17, while you take in the beauty of the Hill Country and taste the award winning wines from your favorite Hill Country Wineries," said the Texas Wine Trail. Their website has a list of the days each winery is open to make it easy to plan your tour.
Not only is the Wine and Wildflower Trail a great opportunity to see as many Texas Hill Country local wineries as possible and explore why the Hill Country is the "New Napa" by Huffington Post, it's also a great way to save money in the process. Tickets to the Wine & Wildflower Trail cost $40 for individuals and $70 for couples, and include "one packet of wildflower seeds, a full complimentary tasting at each winery with a limit of 4 wineries a day and a 15% discount on 3 bottle purchases," they said. "The average tasting fee at the 48 participating wineries is $10/person…adding up to $40/person if visiting 4 wineries in a day. And that's just for ONE day!"
The event lasts until April 17, giving ticket holders ample opportunity to tour and taste at each of the 48 wineries. This is one of several events throughout the year at the Texas Wine Trail that allow visitors to explore this vibrant area. The The Hill Country has been named one of the 10 Best Wine Travel Destinations by Wine Enthusiast and called out as a top wine region by USA Today, in addition to winning several impressive international awards.
Visiting the area is more enjoyable than ever, but living here is even better. New Braunfels communities offer an opportunity to live in one of the fastest-growing cities in the nation with all the natural beauty, small-town charm, and access to big city amenities. Vintage Oaks is the Hill Country's fastest-growing community for the past three years, and its location puts New Braunfels land owners right on the Wine Trail and convenient to both Austin and San Antonio.
For more information, visit Vintage Oaks or click below to start your custom dream home search.