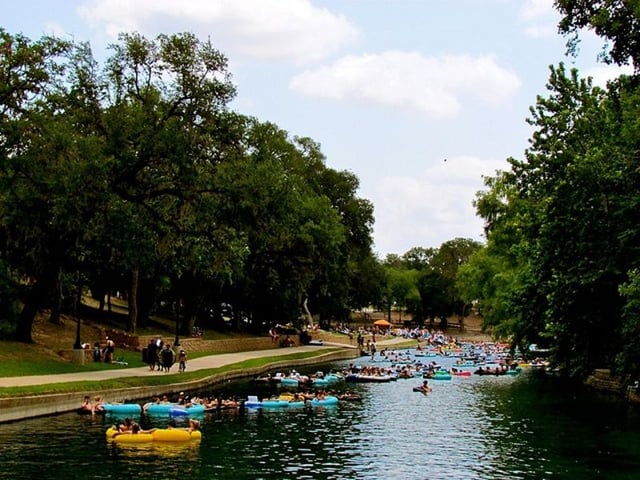 In the summer, you can find Texans—as well as many visiting from outside of Texas—heading to the water to go tubing. Floating the river in the Hill Country is a popular pastime, where two rivers in New Braunfels are perennial favorites. But if you're heading out for a day of fun, it's best to know a few tips to maximize that fun and minimize potential hassles.
1. Know the conditions
Conditions on the water can change quickly. Many outfitter websites have live updates on the current river flow and may also have a webcam for you to view. This is key if you're looking for a smooth ride that would be better for kids or for some more challenging rapids.
It's also important to consider the vibe of the float. Some entrance spots along the rivers in the Hill Country may have a more party friendly vibe than others. The Comal River is often the choice of families because it's a shorter float and the waters are calmer, whereas the Guadalupe features rapids, boulders, and tube chutes. Be sure to ask your outfitter for recommendations if you're bringing children.
2. Know the age limits
Children generally need to be five years old to be on the river, but certain river outfitters places like Texas Tubes allow participants as young as three.
3. Protect yourself
That means everyone should wear a life jacket, every time. River outfitters will provide them if you don't have your own. You also want to think about protecting your feet with water shoes to make sure they don't get burned or cut up, or that you don't fall on a slick surface.
Finally, think about your skin. It can be easy to forget about how hot the sun is when you're submerged in water, but you'll pay for it later if you don't wear sunscreen. Shielding your eyes and face with a hat and sunglasses is also a good idea.
4. Bring water to the water
Staying hydrated is important while floating the river, but remember the rules: On most rivers, you can't take glass containers or Styrofoam coolers. On the Guadalupe, each tuber can bring one 16-quart cooler, which needs to have a latch or zipper.
5. Drink responsibly
Depending on where and when you go tubing, you can expect to see alcoholic beverages. If you're looking to partake yourself, remember to drink responsibly and abide by Texas state law, which mandates public drinking hours.
6. Take care of your trash
Toss something into the water and you could get a big fine—to the tune of $500! Ask your outfitter for a mesh bag you can put your trash in before you head out, or bring your own.
7. Upgrade your tube
Still using an old-fashioned tube or one that's black rubber? Look for one with a headrest for greater comfort. And ditch the black rubber—it gets too hot!
8. Ask about music ahead of time
Some spots limit the music, or at least the volume.
9. Figure out how long you want to be out
This is another important question to ask your outfitter. Different floats have different timeframes, so you could be out there for one hour or five.
10. Leave your valuables in the car
Outfitters will generally hold your keys with a picture ID, but you're on your own for the rest. Many a tuber has brought a purse, wallet, or phone, only to have it be ruined by the water or sink altogether.
For more information about living in the Hill Country or building a custom home in New Braunfels, visit Vintage Oaks. This 3,300-acre masterplanned community in the Hill Country offers acreage homesites in New Braunfels ranging from 1 to 14 acres in gated and non-gated neighborhoods as well as custom and semi-custom homes. Resort amenities include multiple pools, a lazy river, ball fields and trails, and a Tuscan Clubhouse. Vintage Oaks is the fastest-growing community in the Hill Country for three straight years.
You can also click below to view drone video of new property released in the Hill Country.