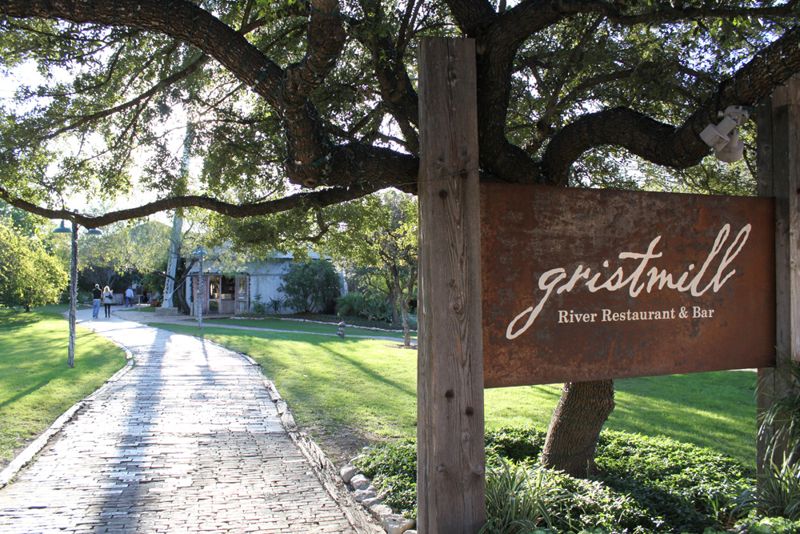 There are plenty of great spots in the Texas Hill Country to enjoy some time with your sweetie. For date nights, you don't want to miss August E's in Fredericksburg for "Nouveau Texas Cuisine" in a contemporary setting. The fare of The Leaning Pear in Wimberley is delicious for lunch or dinner. And the Texas Hill Country dining at Cabernet Grill in Fredericksburg is not to be missed (Sit out on the patio under twinkling lights, and don't miss the chicken fried pecan pie with Jack Daniels chocolate ice cream.
But for our money, we're heading to The Gristmill in historic Gruene, bar none the number one Texas Hill Country restaurant for date nights.
The Gristmill is a perennial favorite and for good reason. Its location overlooking the Guadalupe River and next to Gruene Hall, the large menu, and casually elegant environment set the stage for the ideal date night.
About The Gristmill
Situated on the banks of the Guadalupe River, The Gristmill sits on the site of a former cotton gin; it's three-story brick boiler room, now the restaurant, is all that remained after a fire destroyed the mill in 1922. The restaurant is on the National Register of Historic Places.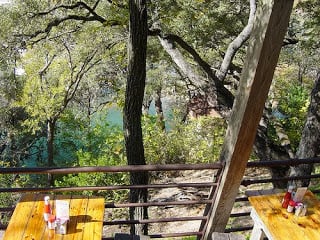 Where to sit
Because of The Gristmill's history, it has ambiance aplenty no matter where you are seated. But you can up the romantic potential by asking for one of the more private outdoor tables overlooking the Guadalupe.
What to order
Famous for South Texas fare, diners can order everything from steak to fish to a good 'ole burger. Our fave: the tomatillo chicken. Truth be told, the tomatillo sauce is so good we'd pour it on just about everything (and they sell it bottled to go if you're so inclined).
There is also a full bar.
What to do after
Gruene Hall, the oldest dance hall in the nation, is just next door, offering live music and dancing. If you happen to be dining at The Gristmill on a night when they have live music, you can show off your moves on the large outdoor dance floor.
If you're done eating early enough, head over to Gruene General Store for a scoop of homemade ice cream or a piece of homemade fudge. Or, simply stroll through Gruene's Historic District, enjoying the charm, and the company.
For more infromation about the Texas Hill Country, and details about living in the fastest-growing community in the area, visit Vintage Oaks.
Or, for more information about retiring in the Hill Country, click below.