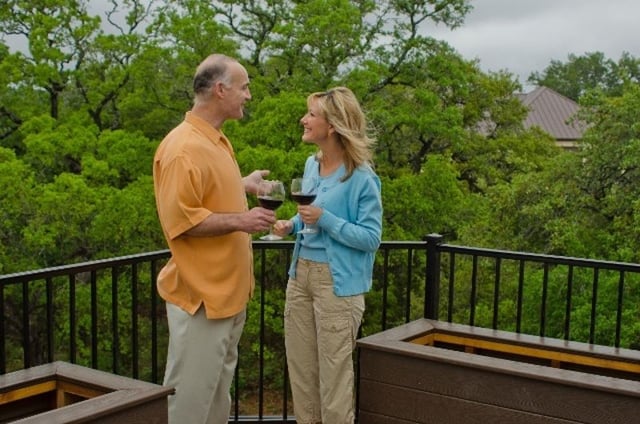 While cities all over the largest state in the nation have garnered attention for their retirement-ready attributes, Austin and the Hill Country offer some of the most popular options. "Texas is the 7th most popular state for retirement at Topretirements, so it is no wonder that there are many best places to retire in Texas," said TopRetirements.com. "Low costs, plenty of space, warm weather, exciting cities, lively college towns, charming small towns, and hundreds of interesting active adult communities are just some of the reasons why. Having no state income tax is another big plus." If you're getting ready to retire in Texas, here are three cities you'll want to consider.
Fredericksburg
Fredericksburg was named to Forbes' list of 25 Best Places to Retire for its "warm climate, above average air quality, cost of living 5% below national average, median home price, low crime, and high walkability rank."
Stash Learn also mentioned the fact that, in Fredericksburg, "30% of the population (is) aged 65 or over," making it an "excellent choice for any retiree."
Austin
Austin was also named to Forbes' list of 25 Best Places to Retire, which weighed economic factors including cost of living, home prices, and tax climates for retirees. Additionally, Austin was the No. 1 pick on Stash Learn's Best Cities to Retire in Texas list.
"Forbes lists Austin as the third fastest growing city in the nation; Money rates it as the second best city to live in; US News and World Report lists it as the best city in the U.S to live. Austin is vibrant and lively with a diverse population, robust cultural institutions, nine universities and colleges, as well as a booming tech scene, Austin is a great choice for the retiree who may not be working anymore, but is far from being 'old.'"
New Braunfels
Austin's strong economy and ongoing accolades have led to explosive growth over the last several years, which has pushed prices to uncomfortable levels for many people and given rise to the growth of outer suburban areas. Increasingly, retirees are opting for areas that are accessible to Austin but also have their own unique features, and they're often choosing New Braunfels in the Texas Hill Country.
TIME Money recognized New Braunfels as one of the Best Places to Retire in 2017, calling it the city that is "Best for Encore Workers." New Braunfels was the only Texas city to make Forbes' list. "Launch your postretirement encore career from one of the fastest-growing cities in the U.S.," they said. "Whether you're after a fun part-time gig to stay active or making a serious stab at a new venture, New Braunfels has the opportunities."
That accolade is tied into national trends that show that retirees increasingly want to work, at least part-time. A survey from Transamerica Center for Retirement Studies found that two-thirds of baby boomers intend to work after 65. "Many are envisioning a transition that may involve flexible work arrangements, shifting from full-time to part-time or working in a role that's less demanding (39 percent)," said CBS News. Moody's Analytics predicts 15.5% job growth in New Braunfels, an added benefit to its low unemployment rate and easy accessibility to Austin and San Antonio.
TopRetirements.com also noted New Braunfels' charm, "its rich German heritage, festivals, and medical access," as well as the "people, weather, excellent health care, beautiful hill country and safe living environment, and many good restaurants. New Braunfels is overflowing with old world heritage and small town Texas charm. New Braunfels "offers the best lifestyle for the money for senior citizens in south central Texas."
Top Hill Country Community
Long the choice of those who want to retire in Texas and build a custom home in the Hill Country's top masterplanned community, Vintage Oaks is now also connecting with buyers looking to enjoy the spoils of this premier Hill Country lifestyle yet with a lower-maintenance footprint. The Grove is the community's first community of single-family homes featuring smaller lots that are easier to maintain. These well-designed homes on 60- to 75-foot-wide lots offer single-and two-story floorplans ranging from 2,100 to 3,500+ square feet with prices from the mid $300s. Of course, for those for whom nothing but a custom home will do, Vintage Oaks continues to offer a spectacular array of 1–14 acre lots in both gated and non-gated neighborhoods.
For more information, visit Vintage Oaks. This 3,300-acre masterplanned community in the Hill Country also offers resort amenities including multiple pools, a lazy river, miles of trails, playgrounds, sports courts and ball fields, a brand-new Fitness Club coming in 2018, and the Tuscan Clubhouse, home to year-round activities and special events.
You can also download the free Guide to Living and Retiring in the Texas Hill Country below.