Rules for Using Color in Your New Home
One of the most exciting parts of getting ready to move into new construction homes near Hill Country is decorating. Not only are you one step closer to moving in, but it means you finally get to personalize this space you've been waiting for with paint, furniture, and decor. After the HGTV marathons and Pinterest sprints, you're ready to begin, but there's one thing to consider: how to use color in your
custom,

new construction home
.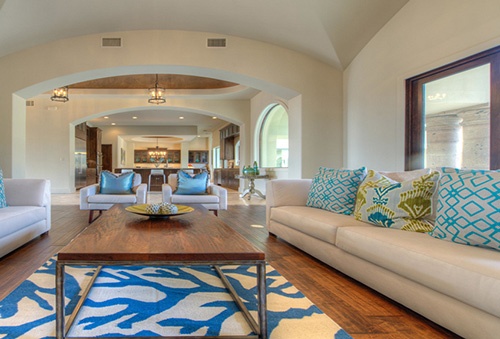 We've gathered our top rules for using color in your new home to get you started from the very beginning of the process:
1. For Inspiration: Think Small
We all have that favorite scarf in our closet or a patterned rug that never fails to impress. Go out and find small pieces to inspire colors for your new construction home. Choose one that has 2, 3 or 4 colors that you could imagine as the centerpiece of the entire room. Choose from:
Rugs
Lampshades
Vases
Floral Arrangements
Artwork
2. Sample, Sample, Sample
Just like you sample ice cream at the ice cream shop or try on a shirt before purchasing it, you don't want to dive into a wall paint or color scheme that doesn't quite fit right. Gather samples of all the colors you're considering for your home from your local paint or hardware store and start getting inspired. You can even paint a couple places in a room to find your favorite shade.
3. Use Emotions
No, you don't have to
get
emotional, but thinking about what emotions are associated with different colors can be useful in determining your decor. HGTV has a great resource on the
psychology of color
that notes everything from why pink makes people feel good to how blue can make a room feel larger than it actually is.
4. Think Outside the Walls
When you're building your new construction home near Hill Country, you want to get the most of the outside views. You've spent all this time
choosing a home site
with a great view, and built the rooms in your home around those views. Use these carefully selected window placements as inspiration for painting certain walls in your home, because the natural lighting will affect the way different colors appear.
5. 60-30-10
Not sure how much color to use? No problem. Just remember the 60-30-10 rule: 60% color, 30% secondary color, 10% accent. For some great examples, check out this article from
Wayfair
that shows everything from a monochromatic pallet to a living room that jumped right out of the 60's!
Now that you're an expert on how to use color in your Hill Country new construction home, go out and start decorating. Or if you're still trying to gather information on building your new home at Vintage Oaks, check out our Complete Home Building Guide!